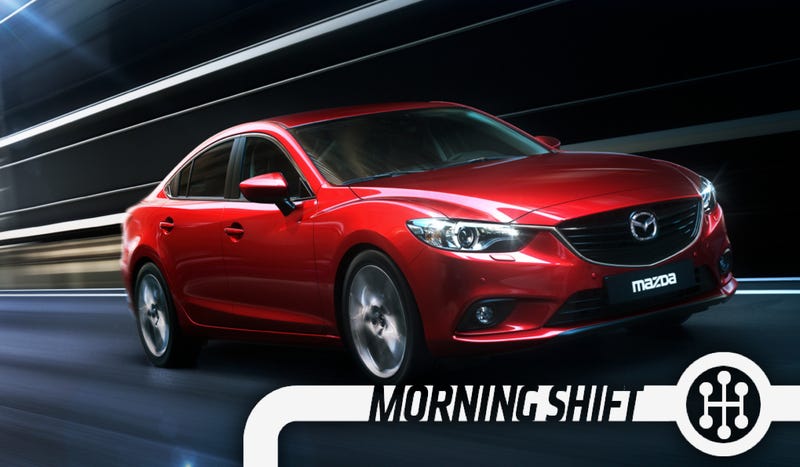 This is The Morning Shift, our one-stop daily roundup of all the auto news that's actually important — all in one place at 9:00 AM. Or, you could spend all day waiting for other sites to parse it out to you one story at a time. Isn't your time more important?
We're in that lull that comes after the New York Auto Show but before any real news happens. It'll give us a chance to focus on some larger stories we've had in mind, but it'll also mean less direct product news. So keep the tips coming because we're open to them.
As always, you can drop a tip in our Oppositelock forum, tweet at us, or email us. Now let's get started.
1st Gear: How A Weak Currency Is Going To Help You And Mazda
Mazda is in a strange place. No longer tethered to Ford and with no looming connection to another automaker, Japan's fifth largest car company doesn't have a huge bank of cash behind them (they had to sell a bunch of shares to get the cash they do have). They need to be careful.
Yet, they have a huge inherent advantage because they're an export focused company and Japan's move to dramatically weaken the Yen means they're making a huge profit any time they sell somewhere with a stronger currency (i.e. the U.S.). Bloomberg breaks it down nicely.
What does foreign currency manipulation have to do with you? Simple. If you love driver-focused, bold designs then you should be supporting Mazda anyways. They're more interesting in driving pleasure than any other large automaker. The Mazda3, Mazda6, and Mazda CX-5 all get the Jalopnik seal of approval.
Even if you didn't care about all that, Mazda can make the same profit on a vehicle with a lower price than it offered previously. This means volume is suddenly more important to Mazda which means one could reasonably expect incentives to go up. I.e., go buy a Mazda while the buying is good.
2nd Gear: This Is The Citroën C4 Picasso
I love French cars. They're so… French.
The Citroën C4 Picasso gets a new look (curiously similar to the 2014 Jeep Cherokee) and what they're calling a "loft-style interior." The car is built in the company's Efficient Modular Platform 2, which it shares with Peugeot, which squeezes more space into a smaller footprint.
Since there's no risk of them selling this car in the United States it gets a range of tiny diesel and gasoline engines.
3rd Gear: Hyundai's Suspension Problem
I generally like Korean cars, as well, although they're like the opposite of French wines: the newer ones are always better. For example: the Feds are probing Hyundai over 393,000 Hyundai Sonatas built between 2006 and 2008 for suspension rust.
Six cars have reported suspension failures due to frame cost on the control arms, with three at highway speeds. Investigators are trying to determine if that's a problem big enough to cause a recall.
No crashes or injuries have been reported and thus, so far as we can tell, no… fiery deaths.
4th Gear: The Midsize Trucks Are Returning Soonish
How much longer do you have to wait for a midsize GM truck like the global Chevy Colorado? According to Mark Reuss in an interview with The Detroit Free Press it could come as early as late 2014.