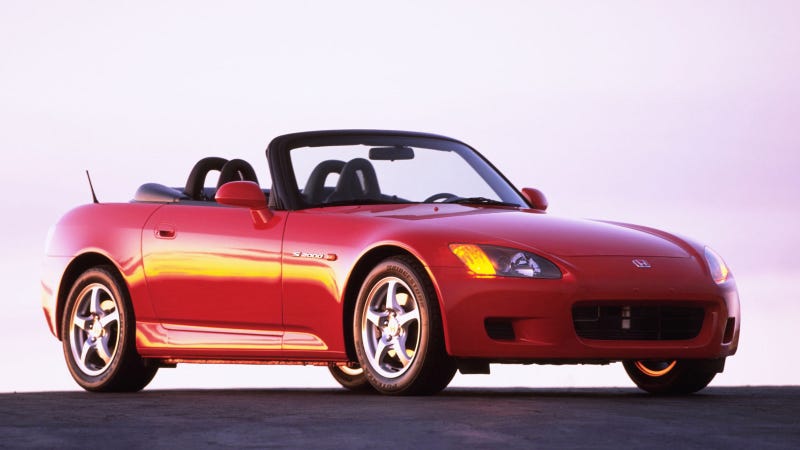 I try hard, dear reader, to avoid obvious answers when I pen these Future Classics stories. You don't need me to tell you that the Toyota Supra or the E46 BMW M3 are great cars. It doesn't take a rocket scientist to know that the Porsche 993 will be highly coveted one day. That's too easy and not much fun.
But just because an answer is obvious doesn't mean it's wrong, and cars can be future classics for reasons that aren't so readily apparent. That's why today I nominate the Honda S2000 for this status: not only because it is a fantastic machine, but also because its discontinuation left a vacuum in the sports car landscape that has yet to be filled.
A casual observer might think the S2000 was simply Honda's way of moving into Miata territory. This assumption is wrong. It was more like the Miata's psychotic axe murderer cousin who just escaped from prison and has a long list of police officers, prosecutors and ex-girlfriends it needs to take revenge on.
The car first showed up in 1995 as the Sports Study Model Concept. In 1999, it was put into production as a 2000 model, named S2000 as both an homage to Honda's S500, S600 and S800 sports cars from the 1960s, as well as its own 2.0-liter engine.
It had a respectable 240 horsepower and a paltry 153 pound-feet of torque, both at lofty RPMs. Famously, with 120 horsepower per liter, the engine had the highest specific output of any normally aspirated production engine in the world.
But revving is what the S2000 did best; the car could rocket all the way up to a stratospheric 9,000 RPMs. Coupled with a 2,750 pound curb weight, the S2000 could send a driver willing to wring the hell out of it from zero to 60 mph in 5.8 seconds.
But the S2000 wasn't built for quiet Sunday drives, it was built to hoon. Edmunds in 1999 described it as "minimalistic," and that's a fair assessment. You got a trick digital gauge, a steering wheel, a typically Honda-excellent six speed manual (no automatic here!) and... well, not much else. It didn't even have a clock at first. Uh, did I mention the top goes down?
The car's extreme rev limit and handling won over its critics, though they noted it wasn't for the faint of heart. Motor Trend in 1999 said it felt like "Formula One engineers built a sports car":
Most people will never drive in the best rpm range (7000 to 8500), shifting too early. Our advice is to treat the S2000 like you hate it and you'll get the most out of it. We did and loved every minute of it.
The S2000 was largely unchanged throughout its run. The biggest tweak came in 2003 when the second-gen AP2 model was introduced with a slightly larger 2.2-liter four for the American market. This one had a bit more torque and a lower redline, but it remained an unparalleled hustler. Car and Driver called the new car "More flexible, better balanced, still demonic." Hard to argue with that.
The S2000 won hearts and minds for years with minimal changes, including a few great special editions, until it was finally killed off after the 2009 model year. Though it forced its competition from BMW, Porsche and Audi to up their game, its sales became sluggish and Honda decided to put it out to pasture.
The car was not replaced, by Honda or any other car company. And we are worse off for that.
Look at it this way: I'm bummed that the Lancer Evolution is on the way out, but at least we have the Subaru WRX STI. If GM canceled the Camaro tomorrow, you could buy a Mustang, unless doing so would cause you to be disowned by certain members of your family or something. If the 370Z died forever, we would still have a bevy of rear-wheel drive sports coupes with powerful engines to choose from.