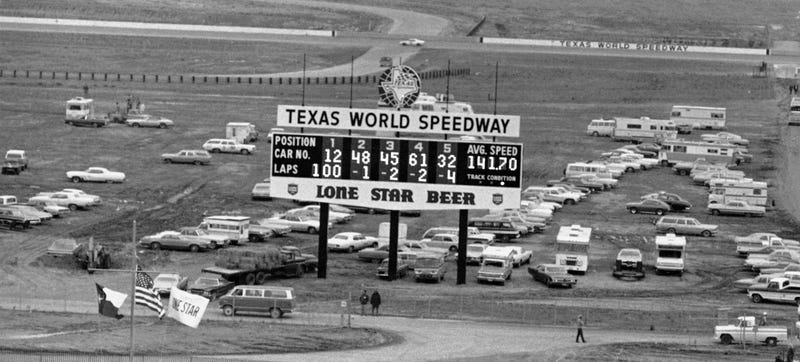 I've heard a lot of pea-brained ideas come out of College Station, Texas, but the thought of bulldozing a historic racetrack that remains in active use almost every weekend of the year in favor of cheap, tacky houses on dinky lots takes the cake. Simply put: that ain't right.
Per WTAW, the current ownership of Texas World Speedway has applied to create a Municipal Utility District (MUD), which would allow the developer to issue bonds to install the infrastructure for roads, sewers and other items necessary for the track site to be developed into a master-planned community featuring homes, business space, parks and an elementary school.
While the track's 2014 calendar will be honored through the end of the year, the developer wants to start construction as early as 2015.
The owner, McAlister Opportunity Fund (also operating under Grid Raceplex Holdings, Ltd.), purchased the property in December 2013 with no public announcement made for what they intended to do with it. In fact, most of the regional track community has been blindsided by this news. All of the recent drive to clean up the track facilities and surroundings gave us hope that maybe they'd start turning the facility around, but it looks like that was all just a two-faced move on the part of the ownership.
I say this as both an amateur racer and a Texan: this racetrack needs to stay a racetrack. It's about preserving our history and heritage. It's about what's right and what's wrong. Most of all, it's about keeping a facility that serves an entire state of racers around for years of continued use.
I can think of many better uses for this developer's $513 million, such as purchasing a large cactus to insert where the sun don't shine and handing the rest of it to me so I can buy and race a pretty lilac 911 Cup car.
Let's be honest: Texas World Speedway isn't in the best shape today. Even the ladies' bathroom is a tad sketch, which is saying something. I don't even have fond memories of my attempt to race here. Yet it's the strip of pavement that keeps everyone coming back.