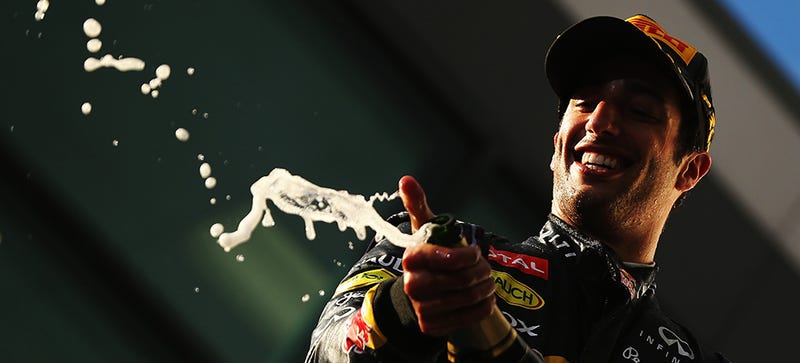 By now you should've watched the Australian Grand Prix, or at least you had to, because NBC's only replay of it was at 6 AM, for some reason. Spoiler alert: Red Bull driver Daniel Ricciardo came in second, and then was disqualified hours later. But the reason is a bit technical, and not so easy. Here's your explainer.
But first, a little background. Daniel Ricciardo was racing in the first event of his first season for the big Red Bull team, which has enjoyed a string of championships over the past few years. He's an Australian, too, racing in his home race, so it was kind of a big deal. The fact that he made the podium was huge, for him, as you can see right there on his big happy Australian face.
Seriously, that grin-thing is about to take over his entire body. He'd just be one big mess of teeth soon, if, you know, he wasn't disqualified.
But part of the reason why this is such big news is in the context of the sweeping changes that Formula One has undergone in the past few months.
This season is totally different, in large part because of tweaks to the aerodynamics rules, but mainly because this is the first year since the 1980s that F1 cars will have turbocharged engines. It's a massive tweak to the way F1 engines have been run for decades, and with a massive change you're likely to see some rule bending, whether intentional or unintentional.