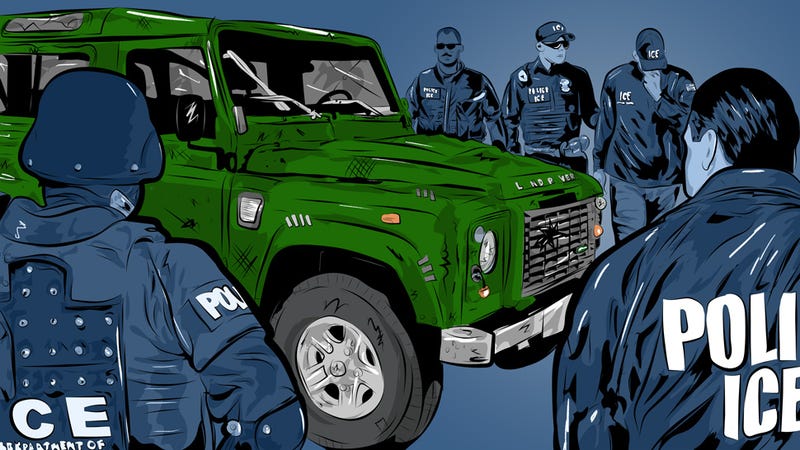 Jennifer Brinkley had a typical summer morning planned on July 15: get up, get dressed, and take her son to tennis practice. That changed when six body armor-clad Department of Homeland Security agents and local police officers showed up at her North Carolina home and blocked her driveway. They were there because of an arbitrary law promulgated 26 years ago to guard the prerogatives — and profits —of automakers and car dealers. Specifically, they were there to take Brinkley's truck.
"They wouldn't even tell me why it was being seized," said Brinkley, who lives near Charlotte. Though she didn't understand what was happening, she reluctantly complied with the agents' request. "If you're a law-abiding citizen, what can you do?" she said.
Around 6 a.m. that same day in Yakima, Wash., and Mobile, Ala., Homeland Security agents and police came to the homes of Mike Rodeiger and Jack Montgomery, respectively, with warrants that ordered more truck seizures. Montgomery, an attorney, said they threatened to arrest him for obstruction of justice if he or his family took photos of them.
"It was disgusting," said Montgomery, an attorney who asked Jalopnik to alter his last name for this story, out of fear that the incident could harm his legal practice. "It's beyond weird. Weird would be a nice word for it. This is thuggery."
In a series of pre-dawn raids that morning in July, agents scoured the country for 40 Land Rovers in an ongoing civil forfeiture case. All of them were older; all of them were the rugged Defender models; and all of them had originated outside the U.S. and were imported here in the last few years by the same man — but in a way that authorities say may have violated America's strict car import laws.
Brinkley's Defender before it was seized. Photo credit Jennifer Brinkley
Since that day in July, federal authorities have seized even more Defenders around the country. U.S. Customs and Border Protection officials allege that all of the vehicles are not in compliance with America's vehicle importation laws, which stipulate that a car must be more than 25 years old to be legally imported here from another country.
But each of the Defenders in this case is now at least 26 years old, according to court documents and several owners who spoke with Jalopnik. Many of the seized trucks were in rough condition or in the process of being repaired or restored. Brinkley was the fourth owner of her Land Rover since it had been imported into the U.S.; at first she had no clue why federal agents would want a run-down vehicle she calls "a glorified tractor."
Roediger's 1986 Land Rover was in a state of disrepair at a body shop, but the agents wanted it after inspecting it there and declaring it had a bogus Vehicle Identification Number. They said the truck was in reality much newer than a 1986 model, which meant it was in violation of the law when it was shipped to America.
"I said, 'How can that be?'" Roediger said. "'Look at the frame. It's even got rust.' They said that could be faked."
A 1984 Defender gets seized by Homeland Security officials.
Months after the seizures, a fight to get the Defenders back is being waged in federal court by Will Hedrick, a Land Rover enthusiast and bankruptcy lawyer by day who has taken on the case pro bono.
Hedrick said the government, as well as Jaguar Land Rover North America, made more than a few errors in supplying and interpreting the information that led to the seizure of the cars. So far, he's made a lot of progress. Six of the seized Land Rovers have been returned through his efforts.
Despite the seemingly long odds of taking on the federal government by himself, Hedrick is working to get the case dismissed outright, and if not, he said, a trial could possibly happen sometime this year.
"I think they expected to find a bunch of VIN-swapped vehicles," he said. "That's not the case."
Hedrick's case contends that the cars are currently of legal age, making their seizure "moot." He also argues that each vehicle was within a few months of being 25 years old when it was imported — and that the law measures age from the model year, not its date of manufacture.
The seized trucks were all imported into the U.S. by the same man, Aaron Richardet, a North Carolina chiropractor. Ostensibly, the seizures occurred as part of a possible criminal case being built against Richardet, but so far he has not been charged with anything. Richardet told Jalopnik he believes he imported all of the Defenders correctly and broke no laws.
Officials from Customs and Border Protection declined to comment on this case specifically, but said in an email that they and other agencies from the United Kingdom have been targeting imported Defenders and Mini Coopers they believe aren't in compliance with the law as part of a program called Operation Atlantic. This operation has led to several prosecutions in both countries, they said.
But to the owners of the Defenders, their seizures are a gross violation of their property rights, an overreach by the government that hasn't been explained to them very well. Federal officials say they're just taking unsafe and illegal cars off the road, and doing so in connection with an investigation into a man who hasn't been charged with breaking any laws and might not be.
"But what if he's innocent?" Brinkley said of Richardet. "What happens to our trucks then?"
The Defender
The Land Rover Defender is a far cry from the modern, high-tech, leather-lined Land Rovers that are fixtures at every Neiman Marcus parking lot — and that's a big reason the vehicle has such a cult following.
It's a boxy, rugged, truck-like 4x4, stripped out and basic, mechanically simple and easy to work on. But it's also the closest modern thing to the old safari-ready offroaders that come to mind when someone mentions the name "Land Rover."
The truck was launched in the 1980s as a revival of the company's old adventure vehicles, but it was only sold in the American market for a brief few years in the mid-1990s.
This has led many of its American fans to import older ones from the UK or other countries. The Defender still rolls off the assembly lines in the United Kingdom, although to the sadness of many, 2015 will be its last year of production.
Pristine Defenders can get expensive, but many of the Defenders in this case are far from pristine. They're all 1980s models that have already done what they were built to do — go where normal cars cannot.
"It has this iconic look it's had for 50 years," said Zak Mosieur of Portland, who imports Defenders and diesel engine kits. This also makes it hard to determine their age.
"At a glance, the trucks all look the same," Mosieur said. "You can't really tell the difference."
In fact, due to the Defender's longevity and modular nature — it's built for farm and military duty, after all — many exporters will sell trucks with newer doors, body panels, or interior parts grafted onto older vehicles. Some are on their second or third engine.
Telling their true age is hard because so many different parts may have been grafted onto the original frame, which along with the engine is what really matters where import laws are concerned.
The 'Mercedes' Law
Until the 1980s, Americans were mostly free to import just about any car they wanted into the U.S. Luxury cars, often with engines or options not available in the U.S. market, were among the most popular choices for so-called "grey imports."
But because these imports were moving through unofficial distribution channels, they started eating into automakers' profits. After Mercedes-Benz and other car companies spent millions of dollars lobbying Congress, lawmakers passed rules in 1988 that heavily restricted the importation of foreign cars.
Today there are really only a few legal ways to import a foreign car. The National Highway Traffic Safety Administration, the vehicle safety arm of the U.S. Department of Transportation, requires that a vehicle be 25 years old or older (or already compliant with U.S. safety regulations, like a U.S.-spec vehicle sold abroad) for safety reasons. The Environmental Protection Agency requires the vehicle or engine be 21 years old or older for emissions.