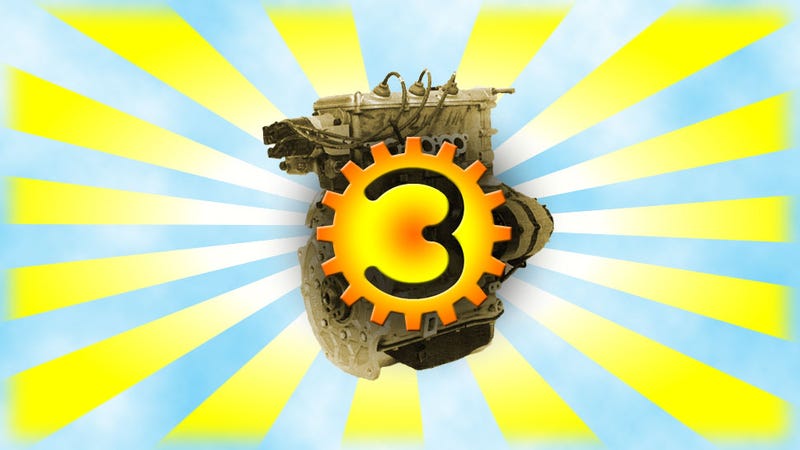 Americans like a lot of things in threes — the number of songs played on Thursdays, patties of burger meat, celebrity deaths. But, generally, we've always regarded four as the lowest limit of cylinders in a dignified car engine. This is the year that's changing for good, and we should all welcome it.
The rest of the world has had more experience with 3-cylinder engines, but in America, the list of even remotely common three cylinders is pretty short: a few 2-stroke Saabs way back in the day, the occasional Subaru Justy, and then Geo Metros (possibly the car most associated with 3 cylinders in America still) and more recently the Smart ForTwo. That's not a lot of cars, and the almost exclusively low-end nature of the cars is a large part of why many Americans still look at triple cylinders with a mix of pity and shame.
Interestingly, odd-numbered cylinder engines have always had a sort of stigma about them, being usually seen as weird compromises. Five-cylinders were made to fit in places a six wouldn't, threes were for people too blighted to afford that final fourth cylinder, and a seven cylinder engine was a mythic beast who's coming could only signal the beginning of the End Times, or perhaps a combine or something.
But things are changing. Recently, there's been a flood of announcements from car makers announcing interesting new three-cylinder engines: Nissan's got a 400 HP one for Le Mans, Ford's little EcoBoost 3 fits in a suitcase and makes 120 HP, BMW has a nice turbo three, VW is already selling 3 cylinder engines in gas and diesel, I just tested a Mitsubishi with 3 cylinders, GM has a new one, and the list goes on.