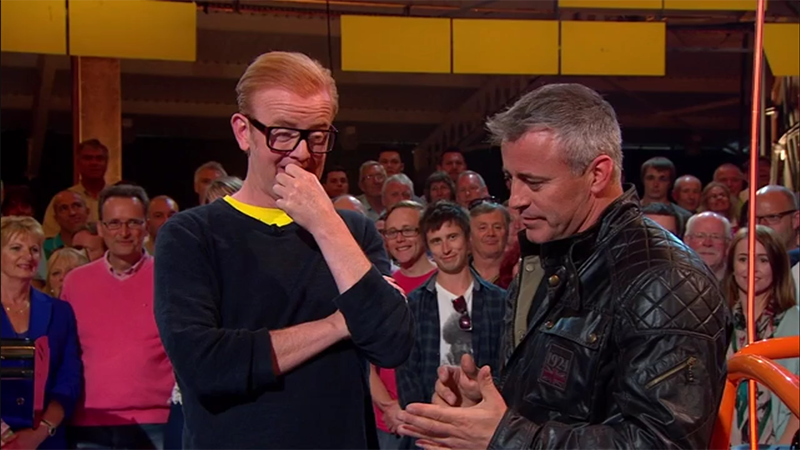 I'm an enormous fan of the UK version of Top Gear and have seen every episode at least three times. After it was announced the show would return with a new cast, I was both hopeful and apprehensive to see what had happened to my beloved franchise. Now that I've seen the first episode, I think it might've been better to let it die.
SPOILER ALERT: If you don't want to know what happens in the first of a series that isn't story driven and comprised of a series of skits featuring cars, then don't read ahead. For everyone else, carry on.
Last night, I got the chance to watch the very first episode of the long-awaited season 23 opener for the only show I'll watch on the day it's released—Top Gear.
It boasted new hosts, a new studio layout and audience, and a new feel, prompted by Jeremy Clarkson' punchy departure from the series. This first episode was a major reboot of the franchise loved in over 100 countries.
No pressure.
The show starts with Chris Evans, a new face if you're outside the UK, whispering, "Welcome to Top Gear, with our all new, improved audience." After a generic opening title sequence, Matt LeBlanc is introduced with the same type of fanfare you'd see in an old Star-In-Reasonably-Priced-Car segment. People clapped, cheered, hooted and hollered. LeBlanc, with a smirk on his face, said "You're too kind, you're too kind" like an aging Sinatra doing a charity gig at a diner in New Jersey.

Evans then made a classy jab at Jeremy Clarkson in an off-hand, maybe planted catering joke, saying "We don't talk about catering on this show anymore," and the first pre-recorded film started—Evans' review of the Dodge Viper ACR.
That's when things started going downhill.
For what it's worth, Chris Evans looked very natural in studio. He interacted with the audience well, his cadence was on point, and he kept you interested in the subject matter. Simply put, he relayed information well.

That seemed to break down a bit when he entered a car and had to drive while talking; the result being a segment where he shouted at the top of his lungs to denote the Viper's awesome road-handling abilities. He reused the beaten-to-death cliché of "race car for the street" and rattled off a bunch of stats known to anyone with enough curiosity to do a five second Google search.
However, what was notably absent from this film was an actual opinion of the car. It seems as if Evans was so busy reciting a Dodge press release that he forgot to review the damn thing, which was an indicator of the rest of the episode's weird styling direction.

The segment morphed into a challenge, where a Corvette Z06 piloted by Sabine Schmitz would engage in a cat-and-mouse dogfight with Evans' Viper. Both cars were equipped with "laser guns" and both cars had trained fighter pilots in their respective passenger's seats.
Barring Schmitz's borderline cringe-worthy Top Gun references and shouting "He's on our tail!" about nine dozen times throughout the segment, I wish they'd actually featured her immense talents more and have her give her thoughts on the car, seeing as she's an actual race car driver and can present worth a damn while driving the piss out of supercars without missing a beat.
The audience got the faintest glimmer of hope when she called the Z06 a "piece of shit", with "awful" suspension that is "like a Ferrari." That was a hot take that was not only unexpected, but sorely missed, as it's what made old Top Gear great—the ability to crap on a car that many highly regard and back it up with snarky yet substantive argument.

As I imagined the audience leaned inwards and though "What did you mean by that, Sabine? Tell me more," the segment ended, with Sabine losing a track battle with to a radio host, after which her fighter pilot passenger got carsick and wanted to puke. That was her only appearance in the episode.
Back to the studio.
While I did mention that Evans was particularly good in the studio segments, it seems as if LeBlanc, by contrast, was one turkey sandwich away from falling asleep. His humorless lines had no semblance of timing, his delivery was monotone and carried a snarky tinge of "They asked me to be here, so I'm here," a fact he points out twice throughout the episode's duration.

After a track lap of the ACR by The Stig, came what was undoubtedly the worst segment in the episode. LeBlanc and Evans would have a US vs. UK showdown, featuring custom-made Reliant 3-wheelers that they would drive from London to Blackpool. On the highway.
Quick aside: the Reliant Robin segment on old Top Gear with Jeremy Clarkson, faked as it may have been, was one of the funniest segments I had ever seen on television. Seeing the oddly shaped three wheeled car flip time after time with a tall, aging journalist in the driver's seat was a goddamn treat.