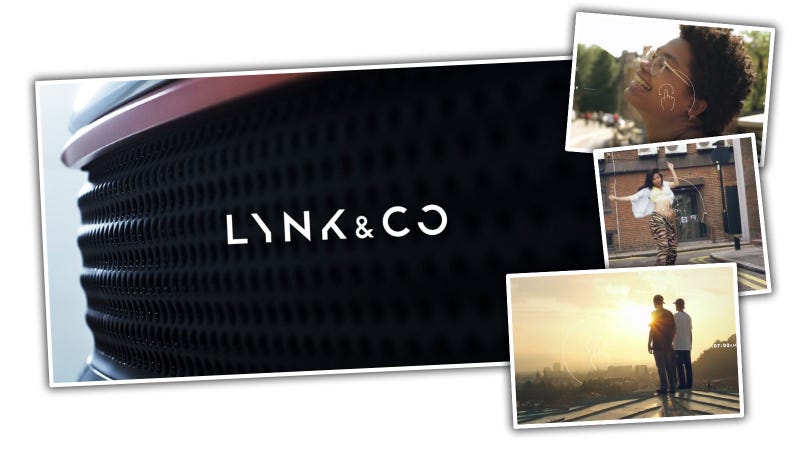 Geely, owner of both Volvo and the company that makes London Black Cabs, is already a major player in China and around the world. They're about to launch a new global car brand, called Lynk & Co, and so far I'm pretty baffled at what this new brand will be. So let's make some guesses.
The new brand will be officially announced in Berlin on Oct. 20, with a press conference the day before in Gothenberg, Sweden. I'll be going, so we'll get the answers, but until then the clues about what this new global car brand will be about are pretty baffling.
There's a teaser website up already, but I think it brings up more questions than it answers. The most notable thing about the teaser site is what's not in: hardly any cars at all.
Nobody is driving. They ride, sometimes, once in a car, but more often in subways, or on bikes. They're on their phones a good bit, too.
Instead of anything about cars, we get video clips of lovely, multinational, stock-footage looking young people walking, biking, dancing, cavorting, and doing all that shit that young, beautiful people do in commercials and music videos and student films before they retire to expensive loft-type apartments to bone with delirious abandon.

There's at least one shot of a young mom chasing a toddler, and maybe one person over 35, but for the most part everyone is young, city-dwelling, and has that fun-loving, cavalier spirit that only non-broke-ass people have.
That suggests to me that whatever Lynk & Co is, it won't be a super-cheap economy brand, but it will likely be targeted younger and urban-dwelling people. The choice of Berlin to launch the brand suggests that European cities are a big target, which suggests something small. Perhaps city-car small.
In addition to the site, I received one solitary PDF, which includes a little bit more text and this teaser image:
So, based on the image, I think we can safely say the Lynk&Co car will intake air into itself via a grille, and at least one surface will have a fairly pronounced curve. That is a lot of grille, though, which to me suggests a combustion vehicle over an electric one, but who knows?

The text of the one-sheet has this to say, a message from Alain Visser, the Senior VP of Marketing for Geely:
ARE YOU READY FOR SOME NEW THINKING?

Time to count down. It's a just a few weeks left until we meet in Gothenburg and Berlin. I hope you are ready for a very interesting 24 hours.

You'll get a hint of the design of the new car in the picture below. But we are presenting more than a new car. A new car brand and a model line-up. And some radical, new thinking - different from anything you've seen before from the car industry.

New ideas, in a new brand, calls for a bold name.

We are LYNK&CO. And we've just started to build our web site. Come and see us at lynkco.com. At this point it is just a teaser, but all the content will be there when we lift the embargo for this exciting news at 00:00 hours CET on October 20.

Once again, I look forward to seeing you soon and I think I can promise you one thing: You will not be disappointed. The world has changed.

And LYNK&CO might well change the world's idea of mobility.

See you soon,

Alain Visser
That's some big talk. They're playing this as much more than just a new global city car, with all that "radical, new thinking" stuff. I mean, it could all just be wild hyperbole and their idea of "different from anything you've seen before from the car industry" could just be a new Bluetooth-enabled set of smartphone apps for the car or something like that.
But maybe it could be more? I've got a few possible guesses about what radical but plausible sort of radical ideas this could be:
• A luxury city car, sort of like a less-ridiculous Aston Martin Cygnet and maybe more close to one of my pet ideas