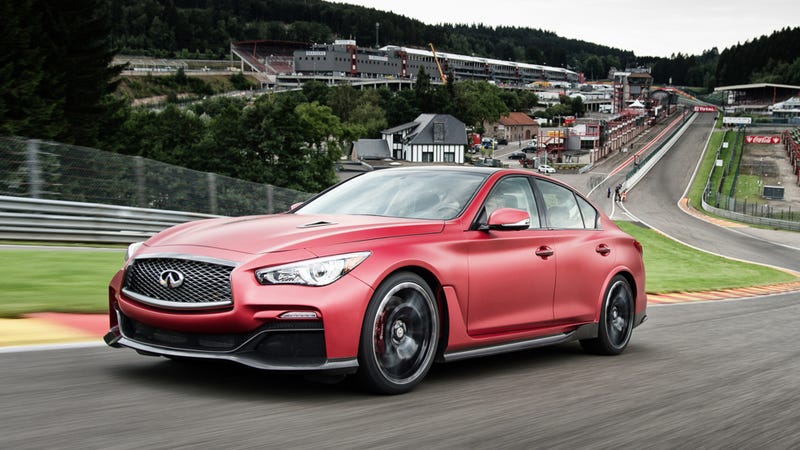 I'm standing at the base of one of the most legendary corners in all of auto racing, the uphill right-left sequence named Eau Rouge. I'd never driven it before but four-time F1 champ Sebastian Vettel has and he's waiting in a hopped up Infiniti hoping to crush me. Then it starts to rain.
From the bottom, Eau Rouge can look like a snaking road to the heavens. As two-time F1 Champion Fernando Alonso described the infamous Eau Rouge "You come into the corner downhill, have a sudden change [of direction] at the bottom and then go very steep uphill. From the cockpit, you cannot see the exit and as you come over the crest, you don't know where you will land."
(FULL DISCLOSURE: Infiniti wanted me to race Vettel so badly they flew me to Hong Kong and then Belgium, fed me food and drinks, and then let me drive their pre-production prototype concept car. I'm not 100% sure why but when someone asks if you want to race an F1 champ around a course you dream about you say: YES!)
Mind you, this corner is also known for being flat out in many different types of cars, and you start to understand the respect this one corner has through the racing world as a whole.
As I look over the old rubber bits and debris clumped up off the racing line, from the 24 Hours of Spa the day before, it starts to drizzle, the blue skies to my left are quickly engulfed by dark shadowy rain clouds. Spa Francorchamps is infamous for its unpredictable weather as it bends itself for 4.3 miles through the Ardennes Forest, full of valleys and peaks.
The rain starts to fall harder and eventually a river is running down from the top of this daunting corner down, forming a puddle at my feet. This is when I remember that growing up, sim-racing, for many years the background on my computer was an F1 car fully compressed at the midpoint of Eau Rouge, as the sun set in the distance.
A brief euphoria engulfs me as I realize that, at 23 years old, I'm about to race a 4-time F1 World Champion on one of the greatest racetracks ever created.
The Competition
In a lot of ways we are racing SebastianVettel and also Pan Xiaoting. I will remind you that all that shameless promotion by the Jalopnik crew and myself garnered us a little more than 3 minutes to go as far as I can around Spa.
That seems like a lot until you realize Sebastian Vettel was awarded 4 minutes and 10 seconds, and Pan a little over 4 minutes. So the odds are certainly not in my favor and I now know to pick my popularity contest battles a little more wisely next time as a lovely Chinese snooker player and four-time world champion.
Ok so you already knew that, but what about the car?
The Eau Rouge On Eau Rouge
The car we we're going to be hot lapping is the one of a kind Infiniti Q50 Eau Rouge. It's the understated, elegant Q50 with exciting wings, a couple little aero bits and then the heart and insides of a Nissan GT-R slammed into the engine bay and throughout its unassuming body.