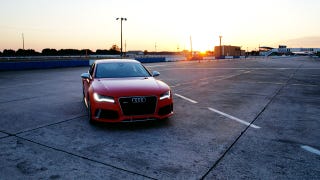 "Just remember that I can only go home when you're done." That was what the Sebring organizer told us as we waited in an RS7 to roll out on the pit straight. That's all. Just don't do too many laps. Otherwise, one of the greatest circuits in the world was completely open for us and us alone.
Well, we thought the track was completely open. As it turned out, there was some random guy walking on the racing line somewhere at the start of the long course. Then there was the group of about thirty guys in Ferrari jackets hanging out on the last turn before the back straight just hanging out. They were from a racing school, maybe. I dunno. We slowed down for them.
This was the very beginning of Travis and my trip of running from Daytona to New York in 24 hours with the East Coast's best endurance racetracks in the middle: Daytona, Road Atlanta, and VIR. Oh, and Sebring. Sebring was our Roar before the 24. The marathon drive started, well, an hour ago as of me writing this (I am currently in the passenger seat of the RS7 running off its in-car WiFi), and Sebring was our preview last night.