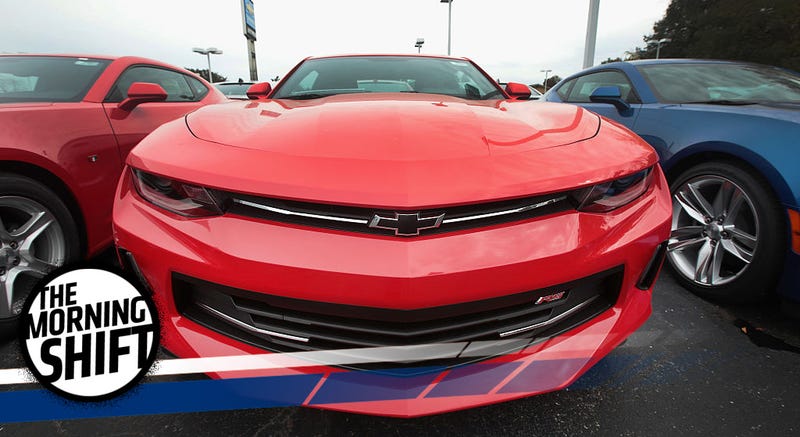 Good morning! Welcome to The Morning Shift, your roundup of the auto news you crave, all in one place every weekday morning. Here are the important stories you need to know.
1st Gear: Too Many Cars
We got too many cars in America today! Particularly from the Big Three automakers, which, perhaps anticipating 2016's sales to beat the record we saw last year, overproduced to the point of nearly-unhealthy excess inventory. The lack of sedan and small car demand has really hurt sales of certain models as well. Here's The Detroit News summing up that situation, with particular attention to what it means for General Motors:
At the end of November, the U.S. auto industry had nearly 4 million vehicles in inventory, or a 72 days supply, according to IHS. Automakers typically want to see a healthy level of between 60 and 65 days supply, IHS says.

The industry has 250,000 or 260,000 units of excess inventory "that kind of needs to be weaned from the system," said Joe Langley, IHS principal analyst for North America light vehicle forecasting.

"Ford has been incredibly proactive through the year in trying to manage inventory and fleet and take downtime and adjust according," Langley said. "GM has let this swell to a point that now they have to take more considerable actions leading into the new year."
Now, especially with end of year deals, is probably a really great time to buy a GM car, especially the fun ones.
2nd Gear: But It's Not Good News For Auto Workers
But as we covered yesterday with GM, this means layoffs and cutbacks at the auto plants, which are slowing down or stopping work entirely until the unsold cars already on dealer lots can be moved a bit. From that same Detroit News story, more context on what it means for Ford and Fiat Chrysler as well:
Fiat Chrysler said it would halt production at its two Canadian assembly plants for less than one week. The comes after the automaker completely cut mainstream car production in the United States in recent months.

The Italian-American automaker on Tuesday confirmed assembly plants in Windsor and Brampton will be down Jan. 3-6, a four-day extension to the Jan. 2 observation of New Year's Day. The roughly 9,000 hourly workers at the plants, including more than 5,600 in Windsor, will be on temporary layoff.

[...] Ford's Kansas City Assembly employs nearly 7,500. Most will be on temporary layoff following the Jan. 2 holiday until the week of Jan. 9. Some workers on "Crew C" are scheduled to return Jan. 6, according to the local union's post. Employment numbers for each crews were not available.
That sucks, especially at this time of year.
3rd Gear: GM Beefs Up Lyft In Detroit
One thing that seems to be doing well is GM's car-rental service for Lyft and its own program Maven, reports The Detroit Free Press:
General Motors' Maven and ride-hailing service Lyft have signed up 350 drivers in metro Detroit for their Express Drive program that enables Lyft drivers to rent used vehicles by the week rather than use their own vehicles on the job.

The program, which launched here in late September, is available in 18 cities now, including Chicago, Boston, Washington, D.C., Baltimore, Denver, Los Angeles and San Francisco, said Elliot Darvick, general manager of Lyft Detroit.

GM acquired about 9% of Lyft in January 2016 after investing $500 million in the San Francisco-based company. But Lyft is free to form partnerships with other automakers, and in some cities is using vehicles supplied by Hertz. Similarly, GM and Maven, the brand it created to launch its car-sharing service, can work with other ride-hailing services.
4th Gear: London's Diesel Problem
Diesel passenger cars are, eventually, on the way out, starting with the American market. But diesel vehicles are still king in Europe, and in London and other cities they're dealing with the negative effects of those vehicles, particularly the less clean older ones. Via The Washington Post:
But the city's overreliance on diesel-powered vehicles has given it a dubious distinction: a global leader in nitrogen dioxide, a particularly noxious pollutant that shortens the lives of thousands of Londoners a year.

Here and in cities across environmentally minded Europe, NO2 levels are substantially higher than in North America, or even in Asian and African megacities whose names have become bywords for dirty air. And that is all because of decades of government incentives designed to spur the purchase of supposedly cleaner diesel cars and trucks.

"It's a complete policy failure," said Gary Fuller, who directs an air-quality-study center at King's College London. "No one could defend this."
More and more European cities are moving to ban diesel vehicles in the next decade. London's not there yet, but with its new mayor calling air pollution "a public health emergency", it could happen.
5th Gear: The 'Sticky' Engine
Volkswagen has reached a settlement over its cheating 3.0-liter V6 diesel engines, but there's still a lot owners don't know yet. Here's Bloomberg a bit on why this settlement was different from the one with the four-cylinder engines:
Resolving the issue with the 3-liter vehicles has proven to be sticky as Volkswagen insisted the engines were fixable and balked at agreeing to buy back all of the affected cars, in contrast to an October deal covering 480,000 rigged 2-liter autos in the U.S. While the settlement is a step forward, it will potentially add to the 18.2 billion euros ($18.9 billion) Volkswagen has so far set aside to cover the damages from years of duping consumers and regulators by manipulating emissions tests in a scandal involving 11 million diesel vehicles worldwide.

Volkswagen is still under criminal investigation in the U.S. and on the hook for outstanding civil claims from several states. It also faces hundreds of investor lawsuits in Germany and is the subject of a criminal probe there as well as in South Korea.

The Justice Department said the settlement reached Tuesday "does not resolve any pending claims for civil penalties, nor does it address any potential criminal liability," nor does the deal "resolve any consumer claims, claims by the Federal Trade Commission or claims by individual owners or lessees who may have asserted claims in the ongoing multidistrict litigation."

Reverse: Here's To You, Mrs. Robinson