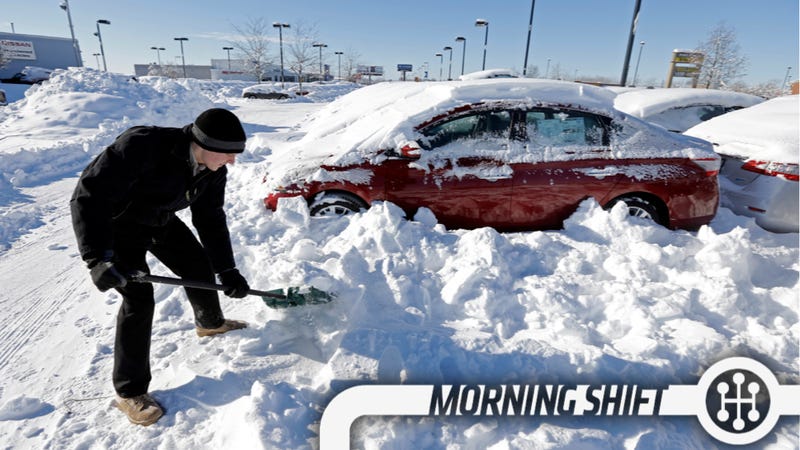 This is The Morning Shift, our one-stop daily roundup of all the auto news that's actually important — all in one place at 9:30 AM. Or, you could spend all day waiting for other sites to parse it out to you one story at a time. Isn't your time more important?
1st Gear: Just How Cold Is It?
Even with a slow December, 2013 will go down as a happy year for the auto industry. Most companies sold more, margins were up for lots of people.
What happened in January? Car companies who had off months — almost everyone who doesn't sell primarily AWD vehicles — blamed the cold. To their credit, I don't even want to walk downstairs to pick up the free cars they drop off for me to drive. I can't imagine walking car lots in this weather.
But what if it was a good month? Here's an interesting bit via Nick Bunkley:
But Brian Johnson, an analyst with Barclays Capital, said even when adjusting for the weather — he recalculated inventories assuming a January SAAR of 15.8 million — GM and Ford each still would have had more than 100 days' worth of vehicles, more than any month since early 2009.

Earl Hesterberg, CEO of Group 1 Automotive, said his biggest worry this year is the potential effect of high inventories on profit margins. Group 1 dealerships had a 72-day supply of new vehicles.

"There's no way you can have dealerships with that level of inventory without it impacting margins," Hesterberg said on a conference call.
Ford may curb that a bit as they wind down sales of the current F-150 in advance of the new one, but what of Chrysler and GM?
Something's gotta give. Either late Feb/March will be a face ripper or it's going to be a longer year than people expected.
2nd Gear: The Australian Car Industry Is Now Definitely Dead
We've called the Australian car industry "dead" multiple times because every new bit of news would inevitably lead to the next.
Ford said they weren't building cars there anymore, which led to GM pulling out, which led to the government ending subsidies which… well once Ford pulled out Toyota was probably already planning to end their production as well.