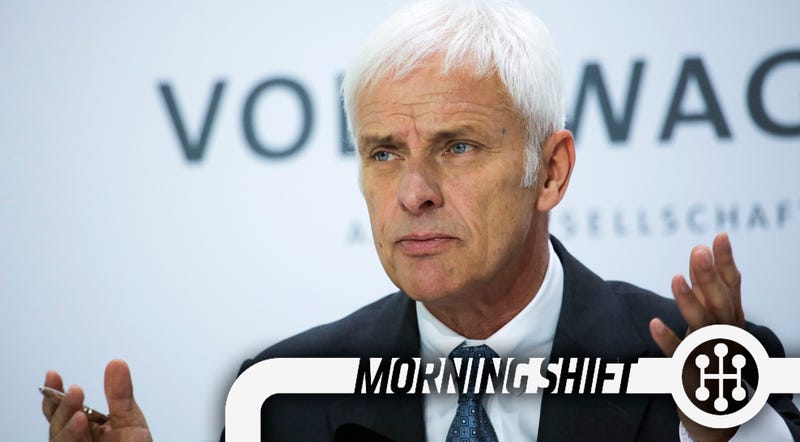 Good Morning! Welcome to The Morning Shift, your roundup of the auto news you crave, all in one place every weekday morning. Here are the important stories you need to know.
1st Gear: The Wrath Of The Shareholders
The heat on Volkswagen's managers has risen in the past few days. At today's General Shareholder Meeting in Germany, executives received a "tongue-lashing" from investors, in particular chairman Hans Dieter Poetsch, who is overseeing the investigation but was chief financial officer when the scandal hit last year.
Via Bloomberg:
Volkswagen AG Chairman Hans Dieter Poetsch bore the brunt of investor dissatisfaction over the automaker's handling of the emissions cheating scandal during a raucous shareholder meeting, with some even trying to remove him as host of the gathering.

Poetsch received a tongue-lashing from investors for his shift last year from chief financial officer to the head of the supervisory board, which has oversight over top management. Underscoring the sour mood, some investors asked to have Stephan Weil, Lower Saxony premier and VW board member, take over the meeting. The motion was turned down.

"You are a conflict of interest personified," said Markus Dufner, managing director of the German Association of Ethical Shareholders.
Shareholders tried twice to unseat Poetsch as chairman, the report says.
In the past week we've seen a delay in the U.S. over the announcement of a diesel fix and the opening of a criminal investigation in Germany that targets two former executives. Things are rough at VW right now.
2nd Gear: Carlos Ghosn's Doing OK
Hey, is Nissan-Renault CEO Carlos Ghosn doing okay? Yeah, he's doing okay. Ghosn's compensation topped 1 billion yen ($9.58 million) for the second year in a row amid record profits. Via Bloomberg:
Ghosn, 62, was paid a total of 1.07 billion yen for the 12 months ended March 31, up 3.5 percent from a year earlier, according to a statement distributed at Nissan's annual meeting Wednesday in Yokohama, Japan. After posting record net income, Japan's second-largest automaker has forecast profit in the current fiscal year will be little changed, as a stronger yen erodes overseas earnings.

While Ghosn's pay at Nissan increased, his compensation as the chief executive officer of French carmaker Renault SA was opposed by a majority of its shareholders led by the government. The executive is spearheading Nissan's move to acquire a 34 percent stake in Mitsubishi Motors Corp., which disclosed in April it manipulated fuel economy ratings.
We'll see how that pans out after they finalize the Mitsubishi thing.
3rd Gear: Why Does Tesla Want Solar City?
As Tesla Motors makes a move to buy Solar City, a company whose CEO is Elon Musk's cousin, investors and analysts have questioned whether it's the right move for an automaker that will struggle to meet aggressive car production targets in the coming years. Via Reuters:
Musk, who is the chairman of SolarCity, CEO of Tesla and the largest shareholder of both companies, described the deal as a "no brainer" in a call with reporters. The company could sell customers an electric car, a home battery and a solar system all at once, he said.

"Instead of making three trips to a house to put in a car charger and solar panels and battery pack, you can integrate that into a single visit," Musk told reporters. "It's an obvious thing to do."

Tesla investors punished the company's shares, however.

"Ideally you want to see Tesla focus on Tesla — building Teslas and expanding the cars," said Ivan Feinseth, an analyst at Tigress Financial Partners. "Maybe the feeling is that this takes away focus, and it could financially strain Tesla, which is going to continually need a lot of cash."
4th Gear: Even If The Viper Comes Back It Won't Be The Same
Pour some out for the Dodge Viper. It's dead. Slow sales, especially when compared to its cheaper arch rival the Chevrolet Corvette, have been abysmal. And while the current Viper is a fantastic machine, Fiat Chrysler couldn't make a continued business case for it.
The Viper has been dead before, but even if it comes back, it probably won't be as demonic as it was in decades past. Here's The Detroit News on that:
Fiat Chrysler CEO Sergio Marchionne in January said the car was a "labor of love that has come out of the bankruptcy in 2009 and was done to preserve, sort of, the heritage of the individual brand."

He mentioned the company, which also owns Italian brands Alfa Romeo and Maserati, has access to other architectures that could be used to develop a car with equal weight and "significantly improved performance."

"Every economic analysis that we've carried about keeping that vehicle in its current architectural state alive don't add up," he said. "So we will not do it, as much as I love the car."

Maurice Liang, founding president of the Viper Owners Association, on Tuesday said he hopes the company eventually decides to bring the car back.

"We kind of knew it was coming but you hope it doesn't. It wasn't total shock to us but it's somewhat disappointing," said Liang, owner of 1993, 1996 and 2008 Vipers. "My personal feeling is even if they do come back ... this will probably be the end of the hairy-chested, fire-breathing Viper."
5th Gear: The Auto Industry Is Screwed With Brexit
If you're not a British citizen, you may not care that the country is voting tomorrow on whether or not to leave the EU. But you should! If the UK is dumb enough to do it, the economic repercussions could be massive, including in the auto industry. The Detroit Free Press reports:
About 80% of the 1.5 million vehicles assembled in Britain last year were exported. About 58% of them were exported to other European countries.

If the United Kingdom exits the European Union, those other countries could impose tariffs of as much as 10% on those vehicles. Exported auto parts could face tariffs of about 2.7%.

Jaguar Land Rover, Britain's largest carmaker, estimates its annual profit could drop by 1 billion pounds ($1.47 billion) if the "Leave the EU" supporters prevail.

The pound sterling, now trading at about $1.47, would drop sharply, perhaps to as low as $1.15, according to some estimates.

Europe's fledgling economic recovery could suffer a relapse if the U.K.'s more robust auto rebound fizzles out.

"The U.K. is the fourth largest global market for GM and the largest European market," General Motors said in a statement. "We employ over 4,500 people directly and 11,000 indirectly in our retailer network and supply chain there. Not to be part of the EU would be undesirable for our business and the sector as a whole."
Reverse: The Movie That Spawned A Thousand Memes