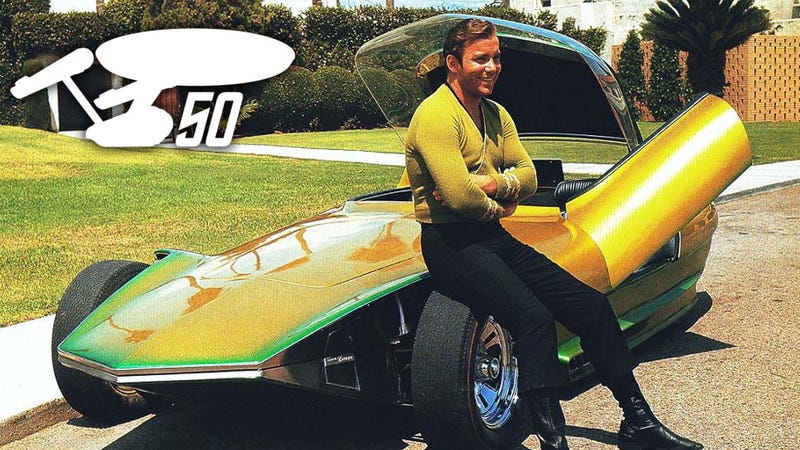 Everybody is celebrating Star Trek's 50th anniversary this week, and since I hate being out of the loop, I decided it made sense to bring some much needed attention to the only non-human built but still recognizable car ever shown on Star Trek. Even better, that car is pretty fascinating, and kind of a gearhead's dream in how it's made. It's called the Jupiter 8.
Let me be clear: I'm not saying this is the only car seen in Star Trek or anything like that. Just that the other roughly conventional, wheeled, non-hovering cars we've seen have so far all been of human manufacture, like that Aptera seen in the background of the 2009 movie or that sand-rail thing Picard tore-ass around that planet in in Star Trek: Nemesis. The Jupiter 8 is a car that was built on another planet, by non-Earth-folks.
The Jupiter 8 is named after the Roman god Jupiter (if you pray to him in Greek, you probably call him Zeus). I know this because the Jupiter 8 is built on a planet romantically known as 892-IV (the inhabitants call it Magna Roma), also known as "that planet that's just like 1968 Earth except for the fact that the Roman Empire never collapsed and now they run the show."

Yes, the Jupiter 8 was shown in the original Star Trek episode 54, called Bread and Circuses, from March of 1968. I'm not exactly sure if I've ever seen the whole thing, if I'm honest. But that doesn't matter, because I'm here to talk about the car.

Magna Roma has a level of technological development about on par with mid-20th century Earth. You Earthlings out there may recall that we were building plenty of cars, and so are the Magna Romans.
Now, it's possible some hardcore Trek-geek out there will know of some other alien-built car that drove by in the background of one of the episodes. That's fine. Because I'm pretty sure this has to be the only alien-built car in all of Star Trek where you actually see the ad for the car, too. Here, look:
Man, that does look like some royal freaking comfort. A Super-Flow slushbox? Check. How's the glide supension in this thing? Super? You know it. And what about those white sidewall tires? The grip, is it... adequate? No, bitch, it's super. I'm just not sure why those white sidewalls don't seem to show up in photographs.
The car isn't just in the ad; the Jupiter 8 must have been pretty popular, because it shows up in the episode as well:
Of course, many of you are already aware that Star Trek is a work of fiction; the people and aliens on the show are all actually human beings from Earth, utilizing a complex method of lie-telling called "acting" to convey other ideas. The Jupiter 8 is no different, as it is an Earth-built car called The Reactor, and is simply acting like the Jupiter 8. Neat, right?
The Reactor was built by Gene Winfield, who went on to build shuttlecraft for Star Trek, as well as the Spinner flying cars for Blade Runner, and even the legendary 6000 SUX from Robocop.