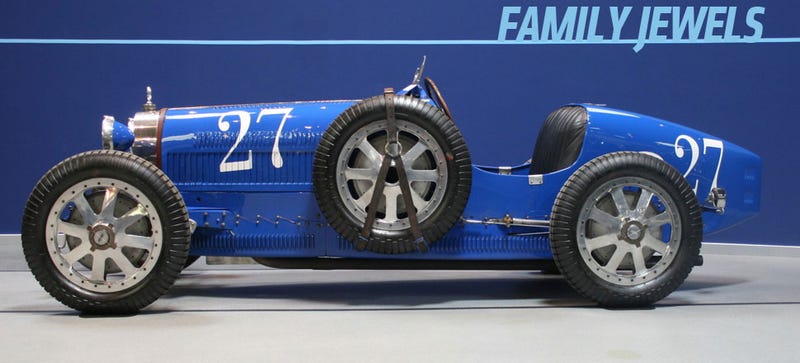 If you're like me, your one thought after seeing an auto museum's retrospective about a particular marque is "where the hell were the sculptures of elephants and the Art Nouveau furniture?" That will not be an issue when you go see the Mullin Museum's spectacular exhibit about the Bugatti family.
The Mullin isn't nearly as open or accessible as, say, the Petersen in LA, but if you're anywhere around Southern California it's absolutely worth trekking out to an anonymous-looking and very beige semi-industrial area around Oxnard to find the museum. The collection has always been remarkable, but this exhibit that features the talents of four members of the Bugatti family is really something special. As you've probably guessed, the Bugattis were a remarkably talented clan. If you grew up next door to them, I'm pretty sure you'd have an inferiority complex the size of many Bugattis, stacked one atop the other. The exhibit primarily showcases the work of the father, Carlo Bugatti, and his sons, Ettore (the one most of you think of — the car guy), Rembrandt (a sculptor), and Ettore's son, Jean.
Mullin owns the largest private collection of classic Bugattis in the world, and for this exhibition he even sought to borrow more, as well as having all of the non-automotive works on display, which include, along with furniture and sculpture, manufacturing tools, a boat, a bike, and a freaking airplane. There's no half-measures here. You're the goose, the exhibition is whatever they force-feed geese, and the sense of awe you'll feel is the foie gras. But less disgusting.
Let's talk about the cars first, since that's really the main reason any of us will see this exhibition, and they're absolutely worth it. The whole span of Bugatti is covered here, from the adorably tiny Peugeot BP1 Bebe (one of Ettore Bugatti's first cars to be in large-scale production) all the way to a Veyron, which, in this company, is pretty ignorable. And that says a lot.
There's the stunning and incredibly successful iconic Type 35C racecar from 1927, with its integrally-cast brake drums in the wheels, a Bugatti trademark. There's the massive, elephant hood-ornamented Type 41 Bugatti Royale, which feels sort of like a long, land cruise ship. It increases your body's count of class cells in your blood just by standing in its generous shadow. There's the rare and novel-looking Type 101C, a full-width 50s-era design that evokes Jaguars and Bristols but manages to outclass them both in sheer elegance.
It's a stunning collection of cars, and, happily, there's respect given to the less pristine, unrestored cars as well. Alongside several rough charmers from Mullin's collection, there's five incredible cars from the Schlumph collection. They're all wildly original, unashamedly unrestored (one looks like a chili bomb went off inside it) and it also includes the only Bugatti woody wagon I've ever seen.
When it comes to landmarks of non-restoration, the exhibit also boasts possibly the most famous and dramatic example of the category: that Bugatti They Pulled Out of That Lake. Yes, the 1925 Bugatti Brescia Type 22 roadster is on display here, in all of its dramatic, zombie-like decay. It's hard not to compose the "ran when parked" Craigslist ads in your head when you see it. It's really stunning, in an equally powerful but opposite way that the lovingly restored cars in the collection are.