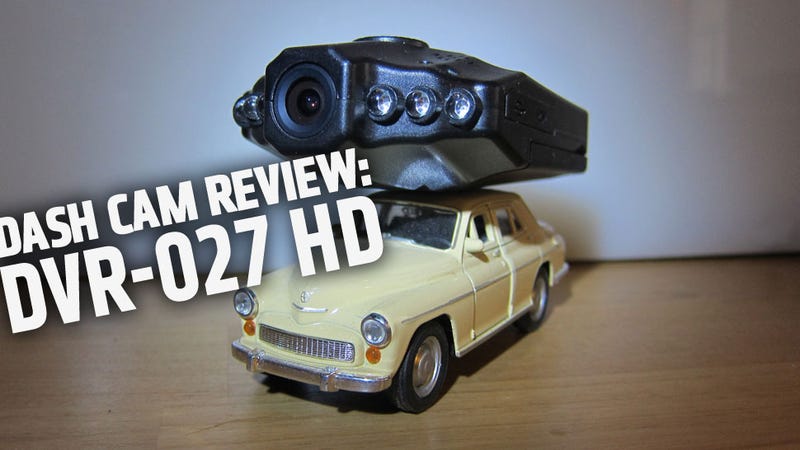 Yes, it seems to be named after the astromech droid R2-D2 lost his virginity to behind a pile of power converters, but the truth is the DVR-027 is a decent, capable dash cam. That's a good thing, since it also seems to be one of the more popular ones, sold under an array of equally forgettable alphanumeric names. It's cheap, works every time, and has decent picture quality. Out of this first batch of cameras we tested, this is the one to get.
It's not that it's incredible at any particular thing — it still looks and feels like a relatively low-rent product, the nighttime image quality isn't great, it washes out color more than a war movie from the mid 2000s, but the overall package gets the job done quite well.
The DVR-027 has been out a while, in various forms, and is one of the most common dash cams out there. I can't prove it, but I think a good number of the crazy Russian dash cam videos of men punching bears from their car windows or whatever have been shot with these. There are a number of knockoffs, and they're often tricky to spot, especially online, but here's some guidelines to make sure you get an actual DVR-027:
• Time stamp is black text on a white background
• HDMI port is present
• Battery is removable
• Fakes are really, really cheap. In general, the real versions of this camera should be between $40-$60 or so.
More fake-detecting guidelines can be found here at Dashcamtalk.
Okay, assuming you got a real, bona fide DVR-027 from the vast, anonymous company that cranks these things out, here's the features you can expect from it:
• Autostart recording when plugged into your car's 12V outlet (if your car keeps power to the 12V socket after the ignition's off, you'll have to turn it off manually, and use motion detection for autostart/stop)
• Recording in 640x480, 848x480, and 1280x720 (720p HD) sizes
• Cyclic recording with 2 min, 5 min, 15 min, or continuous
• Six IR LED lights for night recording, though I don't think they do that much
• Motion detection activation
• Time/date stamping (please note I forgot to set this properly before shooting video)
• Still photo snapshot feature
• Audio recording
• Uses regular SD cards up to 32 GB
• Video playback on unit, or from unit to HDMI TV/Monitor
That's a good basic feature set for a dash cam, but, more importantly, I found that the camera works well without having to think about it much, and the produced videos are pretty good. Here's a sample of video, shot in overcast daylight, at the 1280x720 size, 30 fps. It's of me visiting a sick friend you may recognize, and just ignore me talking to Otto in the back seat. He always screws up that "interrupting cow" joke.
I haven't altered or edited these videos in any way, other than to upload them to YouTube. You'll notice the image quality is really pretty good, with good detail, with legible street names and license plates (at least at full, pre-YouTube compression size). The color has a desaturated quality that improves a bit with more light, but never really gets that vivid. There's some wide-angle lens distortion, but all in all this is very usable video.
In the video above, the camera was mounted in the windshield with the conventional suction-cup mount, and powered from the car. I wanted to see how the camera would perform in a more demanding environment as well, so I also tested it by using the normal suction mount to stick it in the back window of a LeMons car, and send it off into the carnage.
The race was the Sears Pointless race at Sonoma Raceway I judged earlier, and the car was the Faster Farms Belvedere. I used the back window to keep from blocking the driver's view, and ran the camera only from its own internal, rechargeable battery.