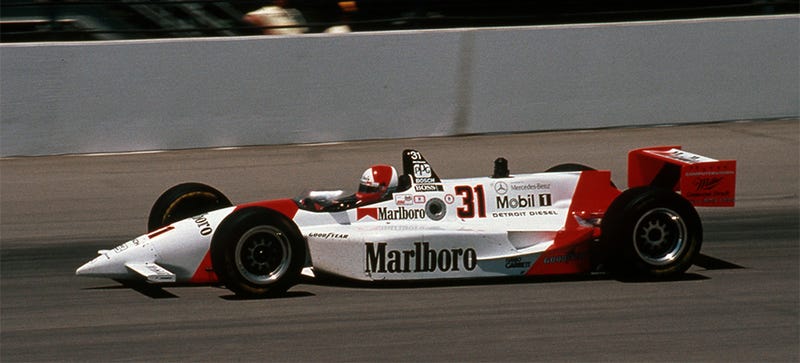 There's been a bit of consternation recently about how to make the Indy 500 popular again. Not that it doesn't have any friends, but it's not the absurdly massive spectacle that it used to be. One of the reasons is that much of the innovation is gone. And a lot of that is thanks to the monster hidden in this race car.

(This story originally ran in May 2014 and is being reposted for the 100th running of the Indy 500.)
To the naked eye, the Penske PC-23B doesn't look like much. Sure, it looks like a blisteringly-fast race car fit for the Indy 500, but every car at the Indy 500 should look that way. It doesn't look very special, or like it heralds some genius new idea.
That's because the real genius is hidden away, under the engine cover. In case you haven't guessed yet, it's the engine itself, the infamous Mercedes-Benz 500I.
A 3.43-liter, turbocharged, methanol-sucking V8, it was created in less than six months, and only for one race. Built by Ilmor Engineering in conjunction with Mercedes for Team Penske and the 1994 Indianapolis 500, it was an absolutely dominant force.
"We hope we've got enough power that it's competitive," Dan Luginbuhl, a Penske Racing spokesman, told the New York Times about a month before the race. He must've been laughing like a window-licking maniac when he said that, because the Mercedes definitely had "enough power," and it was, how shall we say it, "competitive."
Or rather, it wasn't competitive at all, because it completely blew the competition out of the water. Because it had somewhere north of 1,000 horsepower.
For comparison, its contemporaries were getting up to speed with a mere 800 horses. And while 800 horsepower may sound like a lot, the power disadvantage was monumental on a track that emphasizes high speeds.
Long story short, it helped Al Unser, Jr., and Team Penske win the 1994 Indianapolis 500 in frighteningly short order, lapping pretty much the entire field. Then-rookie Jacques Villeneuve was the only other driver to finish on the lead lap.
Like all proper racing legends, the Mercedes-Benz 500I engine and the chassis that held it, the Penske PC-23B, was the fruit of that ultimately race-winning combination.
No, not grit, luck, and moxie. An interesting reading of the rulebook and oodles upon oodles of money.
It was the kind of thing a storied race team like Penske could only provide, and Mercedes paid Ilmor for the engine, allowing them their first Indianapolis 500 entry in 79 years.