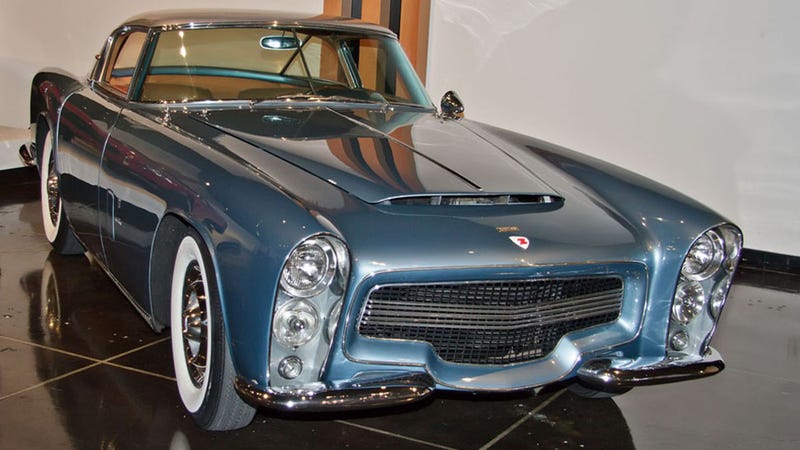 What if I told you Chrysler had a modern two-seater sports car pretty much ready for production right at the time when the first Chevrolet Corvette came out, and a year before Ford introduced their record-selling Thunderbird? Well, I'm telling you that now.
I saw a picture of this car once and all I knew was that it's a Dodge from 1953 with a Bertone body. But after reading the article #142 (July/August 1994) issue of Special Interest Autos Magazine I found in Hemmings Blog, I can tell you much more about it.
It starts with the name. While some call it the Dodge Storm or a Bertone, it is actually the Zeder Z-250 (just when you thought Nissan made "Z" cars). The sports car was created by Fred Zeder Jr., son of Frederick Zeder of The Three Musketeers, the engineering team that started the Chrysler Corporation. If you don't know the badge, don't worry, although the Z-250 was not even the first Zeder. Thirty years back, Zeder, Skelton and Breer designed a car with a high compression engine and four hydraulic brakes. That reached production as the Chrysler Six, the first modern automobile after Ford's Model T.
The younger Zeder had an engineering degree himself, but in 1951, he was working in advertising in New York as vice president of McCann-Erickson. He was also a keen racing driver, and after competing against Briggs Cunningham using a Chrysler Allard, he decided it was time to make a dual-purpose sports car that can outrun not only Cunninghams, but Ferraris and Jaguars as well. He certainly got the connections to start a project of this kind even after his father's death in February 1951, as Carl Breer – who kept working as a consultant for Chrysler after his retirement in 1949 for another four years – was his uncle.
Zeder's idea was that two cars should be made using a common platform: a two seater race car with a fiber glass body weighting only 150 pounds, and a luxurious aluminum coupe. The bodies were to be easily swappable by using four rubber-bushed nuts, where the performance remained the same in both forms. The Z-250 used a modified version of the Dodge HEMI V8 truck engine, which produced 260 horsepower and about 330 ft-lbs of torque according to this article. That propelled the car from 0-60 mph in about 7.5 seconds, and the quarter mile took just 14.7 seconds. Other parts like the brakes, radiator, clutch, steering, rear axle, fuel tank and electronics came from the shelves of Plymouth and Dodge. The rest like the tube space frame, the suspension and the two bodies were unique to the car, while the transmission was a brand new unit developed by the Spicer Division of Dana Corporation.
Since he was aiming for a late 1954 launch, Fred went into partnership with Gene Cassaroll, a fellow racing enthusiast and owner of Automobile Shippers Inc, the company that hauled Chrysler's products all across the country. They founded the Sports Car Development Corporation, while Zeder also got John Butterfield onboard, who used to work for Cunningham and was one of Chrysler's top chassis engineers at the time. Most of the development took place in his basement in Detroit.
The styling was the work of Hank Kean, who also happened to be a Chrysler employee. When the quarter-scale clay model was ready, Virgil Exner, Chrysler's Head of Advanced Design also had some suggestions. When not in the basement, he was working with Ghia on Chrysler's future. But when Zeder went to see Fiat's Chief Engineer in Turin during his Christmas vacation in 1952, Dante Giacosa directed him to Bertone instead. They were pretty busy with Alfa Romeo's BAT series, so it took 9 month instead of the promised 3 to finish Zeder's car. Italiano.
Bertone also turned it into a two-seater instead of the planned 2+2, because what worked on paper turned out to be impossible in reality. The car was then taken to Fiat's famous oval roof track for fine tuning, after which the Z-250 took first price at the Turin Auto Show. It was then shipped to New York onboard of the SS Andrea Doria (which sunk three years later after a collision with MS Stockholm). After picking it up at the docks, Zeder parked it in front of the Rockefeller Center, which resulted in such a massive traffic jam that the police had to ask him to move it.