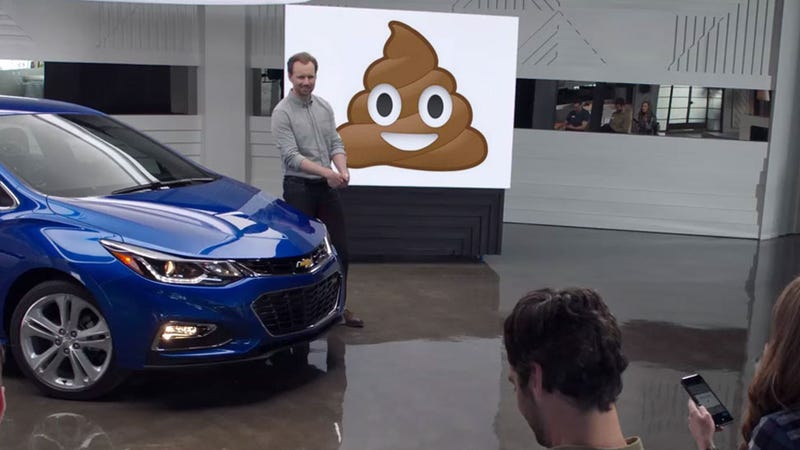 The bar for any car ad where the premise is a staged focus group and there's a reminder that the commercial has "Real people. Not actors" is about as low as you can possibly get. I've learned to expect more enjoyment from a groin rash. Even with that in mind, this Chevy Cruze ad is awful.
The basic premise of this insipid commercial starts normally enough, with a bunch of alleged-but-still-a-bit-too-attractive-to-believe 'real people' being herded into a room with a Chevy Cruze LT and a big, fake screen.
The people are then told that they're going to be shown the 2016 Chevy Cruze, and that the proctor wants to know what they think. Then the really open those stupid taps to full blast, and the guy running things tells them "But here's the catch: you can only answer in emojis," to which the crowd implausibly gasps with joy and a woman makes this face of surprised delight:
Yeah, that didn't happen. This is bullshit. No adult human being, not even 'Mikaela' up there, would have that reaction to being told "you can only answer in Emojis" unless right before this focus group she was involved in a focus group testing the effects of some new formulations of extra-strength MDMA.
I don't get Chevy's weird fascination with Emojis. I guess maybe they think a cute girl texting or Tweeting or twizziling a winky-face emoji to that screen is somehow going to be more relatable to the millenial demographic than having her speak in, you know, words?