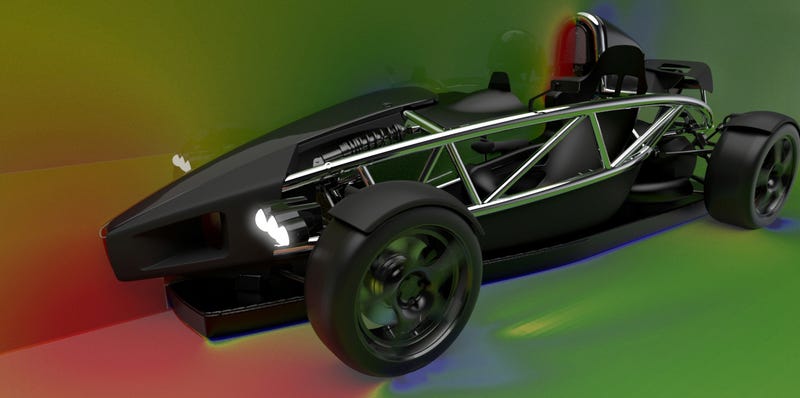 Ariel built a fan car! This is not a car powered by fans, this is a car that uses fans to suck the car to the ground. It's an old trick borrowed from 1960s Texan race cars and the banned Brabham F1 car from the '70s.
The idea is that instead of using an inverted wing to pull the car down onto the ground, the car has two fans under its floor that do the same job. The difference is that a traditional wing generates a lot of drag and only works at higher speed and the fans generate no drag and work from a standstill.
Here's how Ariel describes their fan car, which I'm going to quote from their news item on the car. I just still can't quite believe they did this:

Powered by two small, lightweight, high speed fans the Atom test car has an additional moulding and rubber skirts added to the bottom of the tub as well as ducting and a standalone battery pack.

And again, this is not just a fun exercise with a weird tech. This system really works, at least according to Ariel, which saw three times the downforce with their fans as they did with their production-style wings:
"When the system is turned on the car visibly squats on the ground so you can see it working, which is pretty exciting," said Simon Saunders, "We're already making about three times the downforce as aerofoils, but this really is just the first step and a very early stage in what is a large and complex project to bring to a production reality, so we have a lot more work to do."

Look at how they have to seal the area under the car to get this system to work. I need a car that has 'no step' written on it somewhere.
Now, the car that this is based on is the Ariel Atom, which is a production vehicle (we've driven a couple of them over the years), but Ariel has sadly no intention of selling you one of their fan cars. How this thing would deal with rocks on the road I do not know.