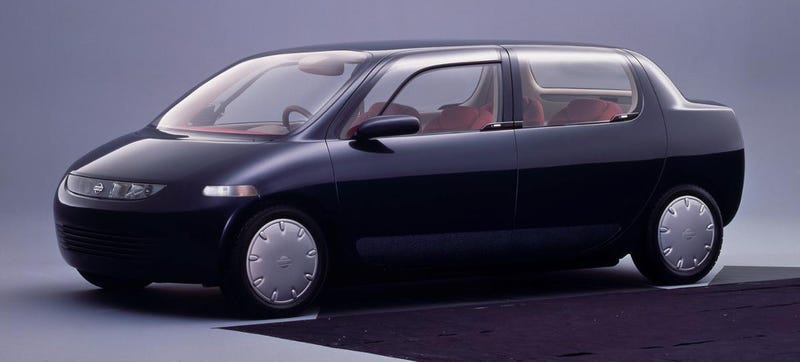 This is the Nissan Boga. Currently, I am in love with it.
The Boga was a bit of a show-off from Nissan back at the 1989 Tokyo Motor Show. Japan was way at the upper reaches of its bubble economy back then, and it had recently finished a new exhibition center for its top car companies to show whatever the damn hell they wanted. Japan's carmakers went nuts and built all kinds of cars that never made production, all probably million-dollar exercises just to show off, as a book on the period, Comeback: The Fall & Rise of the American Automobile Industry remembers.

So the Boga never went into production, and as the most insignificant of the one, two, three, four, five concept cars Nissan debuted at the '89 Tokyo show, it has been quickly forgotten.
I, of course, adore it.
First of all, look at it. Look at it! The thing looks like a dachshund puppy. It's all long in the middle with its minute wheel-legs at its corners.
The Boga was supposed to be a city car of the 1990s, so it was small. How small I do not know; I can't find published dimensions of the vehicle. The Boga did come with a truly minute 1.5 liter engine, so the whole vehicle couldn't have been much bigger than a modestly-sized rabbit enclosure.
The interior was unbelievably minimalist. I mean, shockingly minimal. This is something you'd see in a current concept car. There are retro-patterend seats, a simple digital set of readouts ahead of the blank steering wheel, and a set of audio and air/con system controls between the seats.
That's all. It looks like a furniture store in the hipster part of town. It looks like a fancy playground. It looks like someone stabbed an art gallery.
Nissan wanted the standout feature of the car to be its doors, which is something of a major plot point in today's concept cars. The Chrysler Portal that debuted yesterday was designed around its doors, suicide in the back and unbroken by a b-pillar.