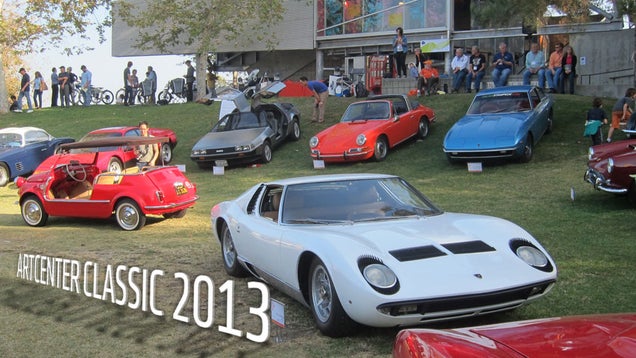 S
As we've mentioned before, ArtCenter in Pasadena is one of the premier schools for teaching auto design in the known universe. So when they decide to have a nice weekend car show, you know it'll be something good. And, boy, was it.
There's actually so much good stuff I couldn't cram it into one post, so this'll be an overview, and I'll have a few others with some real treats. So stay tuned.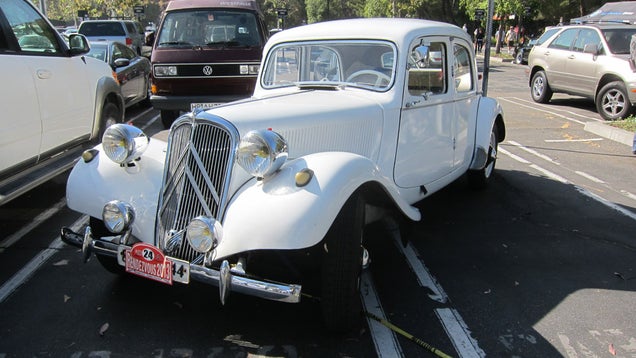 S
You know you're in for a good time when the cars parking like jackasses in the parking lot aren't BMWs, but rather Traction Avants. I'll look the other way for the two-space hogging for this old Gaul.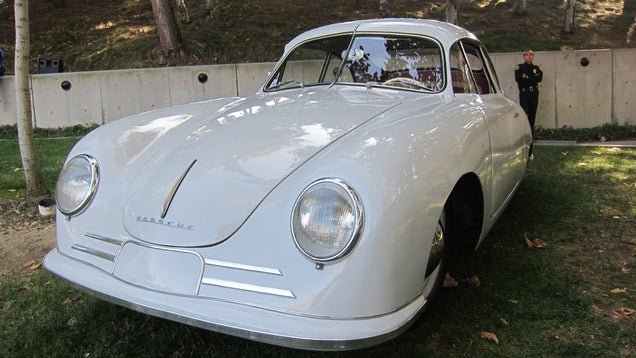 S
This was one of the earliest 356s I've seen — a '49 Gmund coupe. So clean and sleek and lovely.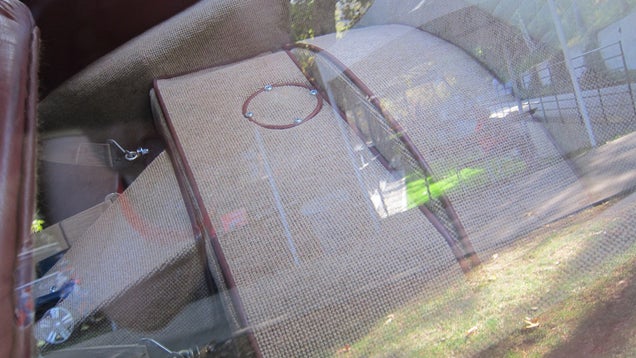 S
Plus, I don't think I ever really noticed how confused and carpeted the rear interior of one of these old 356s really was. It's like they decided to just upholster the transmission case.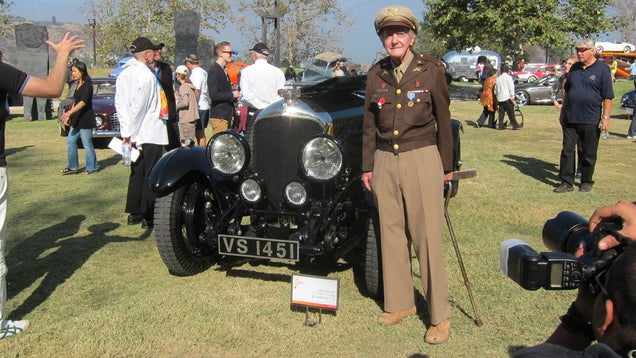 S
This guy, that Bentley. Perfect. Plus, the Bentley's body was made with the faux-leather Weymann technique, and I suspect that old soldier is tough as faux leather as well.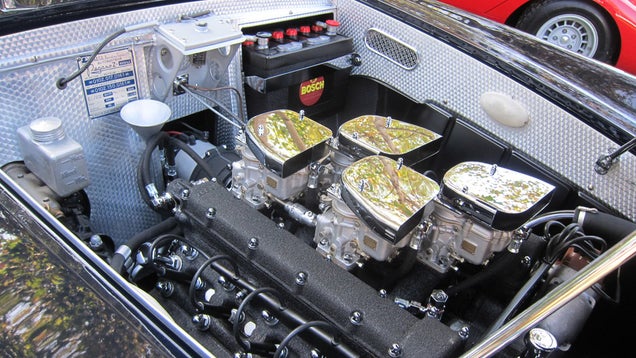 S
I'm not sure I've seen a more beautiful set of staggered carbs and intakes than what's here on this 1954 Pegaso 102.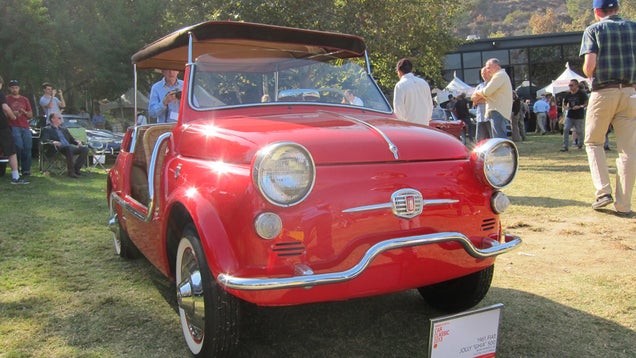 S
No car show is complete without a friendly little Fiat Jolly keeping things fun. This is a relatively rare US-spec one, with the big, tacked on headlights.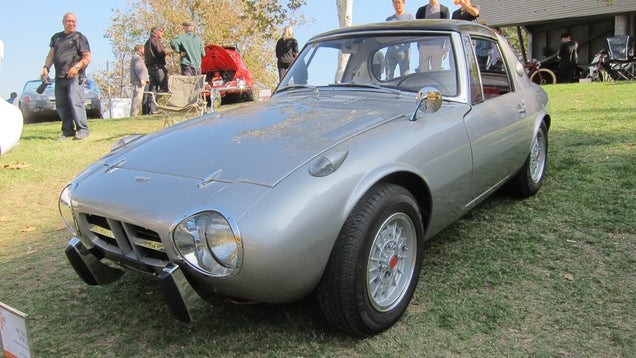 S
Of similar scale was this lovely Toyota Sports 800 — I think I saw this very car before at the FR-S launch.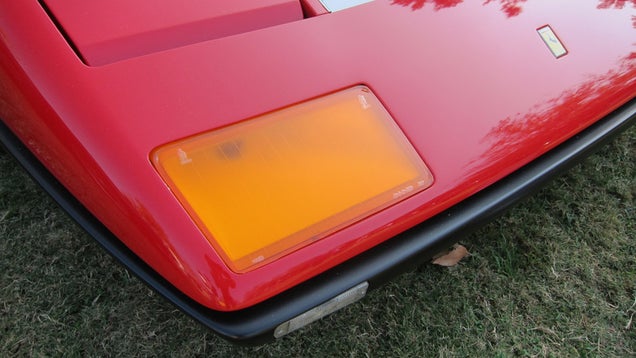 S
This '84 Ferrari Boxer isn't particularly rare, but I wanted to get a good photo of what may very well be the largest front turn indicators in all of motoring.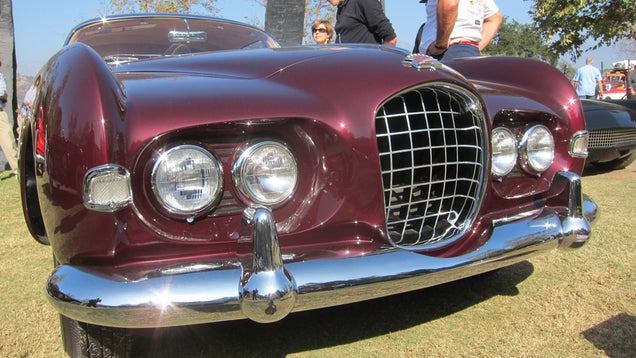 S
This is Rita Hayworth's Ghia-bodied Cadillac. It has lots of very mid-century Ghia design traits, and reminds me a good bit of a Dual-Ghia.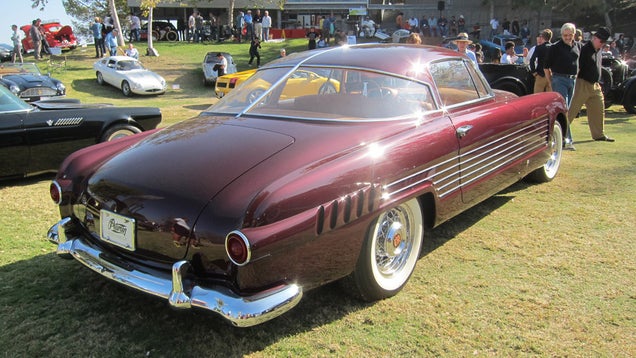 S
The sides and rear treatment are even better than the front, I think.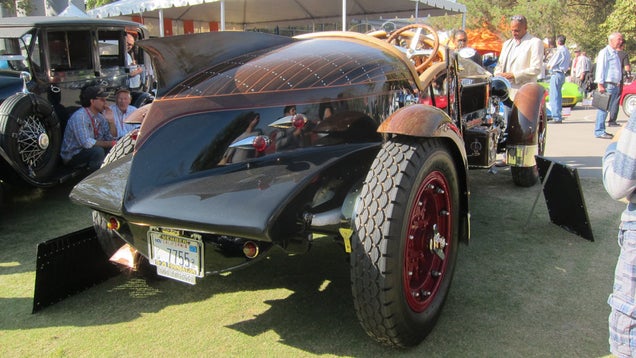 S
This thing. Oh man. It's a 1917 La Bestoni FOURTEEN LITER Boattail Speedster. It was pretty amazing.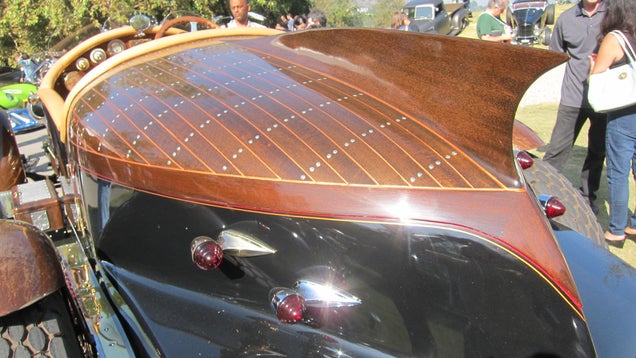 S
Look at that woodwork. That fin.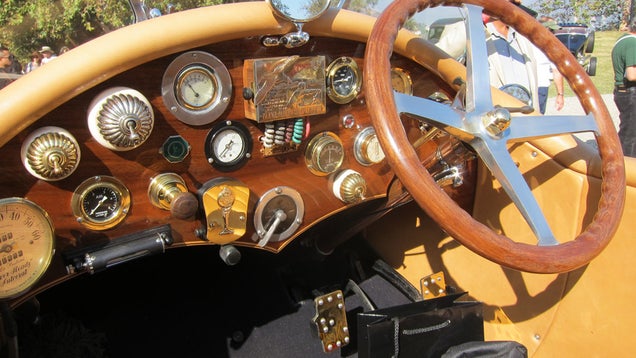 S
.. those gauges and switches!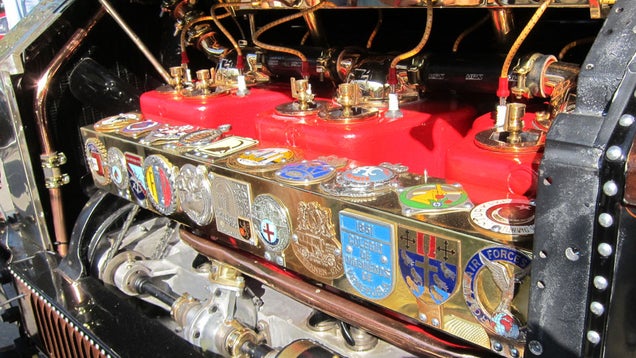 S
... and, of course, that 14 liter engine. With lots of badges. I'll research this chain-driven beast a bit more.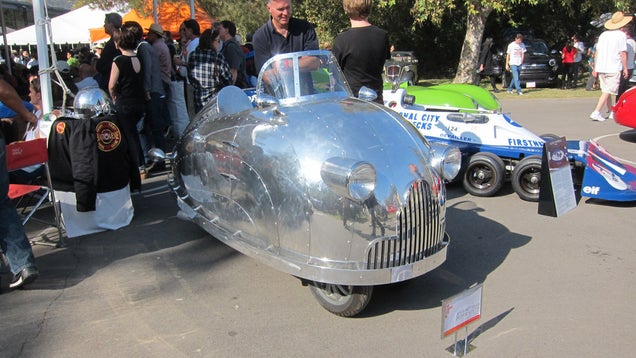 S
This is a bit of rolling, drivable sculpture on top of a scooter frame by Randy Grubb, called the Decopod. It looks like what you'd drive when your jetpack was in the shop.
S
Everyone's favorite hexapod, the Tyrell six-wheeler, was there as well. This thing is a legend, and it's always odd to see it in person, as it's far smaller than you may expect.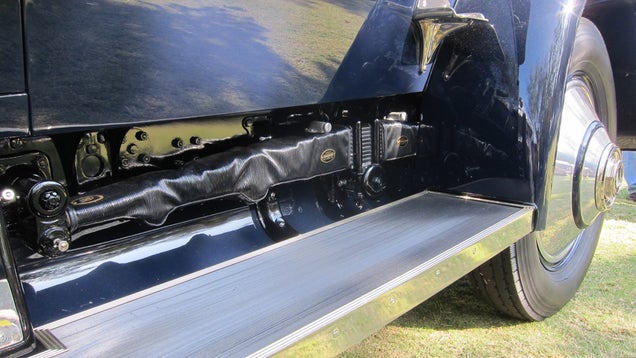 S
The detail on this 1929 Rolls-Royce Picadilly that really caught my eye were the leather-coated leaf springs. I guess they like to be nice and toasty? Or maybe they think the leather jacket makes them look, you know, tough.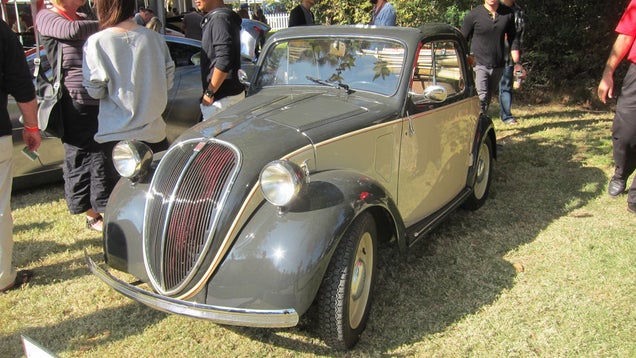 S
A really well-sorted Topolino contains near-dangerous levels of charm. Seriously, if you're sensitive to charm, you should stay the hell away from these, lest you end up in a permanent swoon.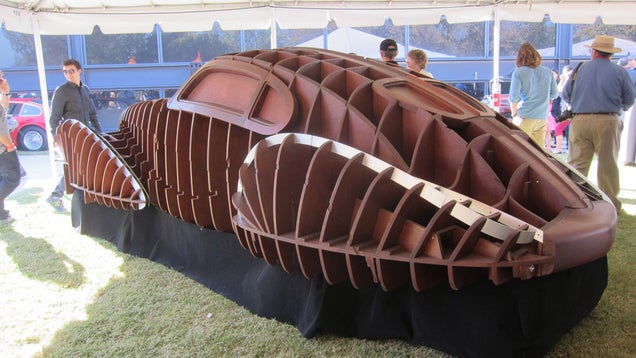 S
There's a nice cause-effect thing going on here. First you see this massive styling buck for a Bugatti...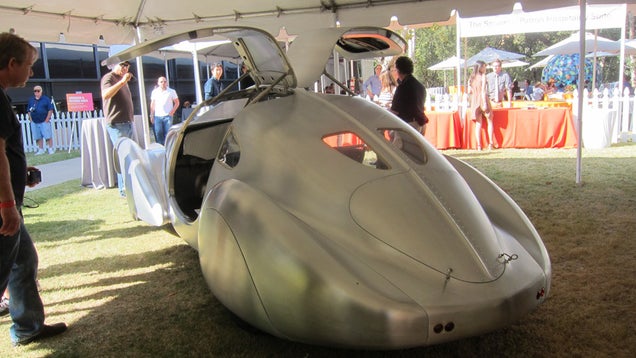 S
... and then you see the incredible aluminum, gull-winged Bugatti that was hammered over it!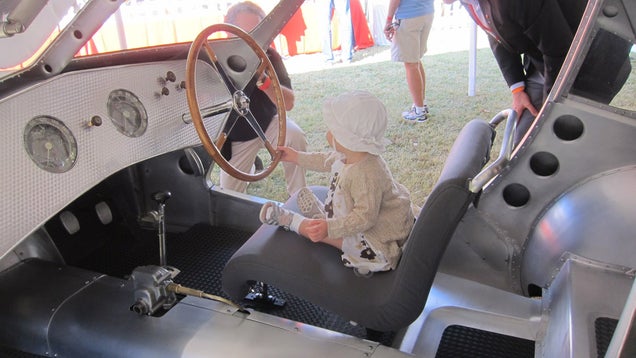 S
The inside was so clean and spare and aircraft-like, people couldn't help but plop babies into it. She drove it pretty well, considering she couldn't see over the wheel.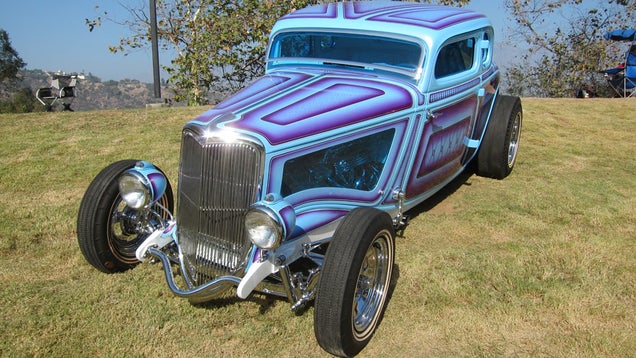 S
There were some great hot rods scattered around as well, including this one with that incredible blue-tinted engine-viewing window.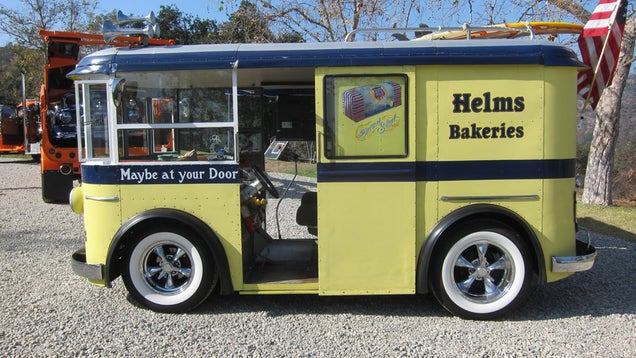 S
I really loved this Helms Bakery hotrodded van. At one time, these breadvans were all over LA, and there's something about the absurdly straightforward and simple design that I love. Plus, you get the biggest dash top known to man. I need to find an old Photomat for my next car project, I think.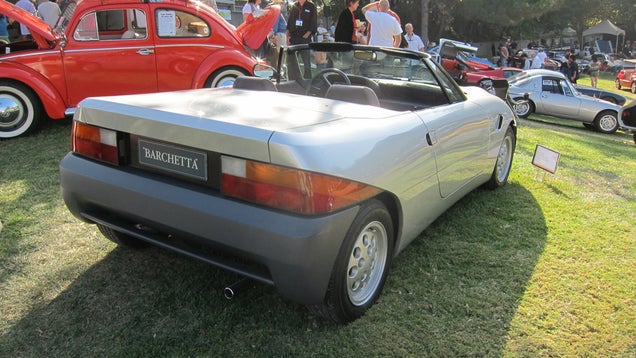 S
Hey! It's the Ghia Barchetta concept car! Built on a Fiesta platform, this '80s show car eventually became the basis for the much less lovely Mercury Capri roadster. Oh, and that Beetle back there is our old friend the Zelectric Bug.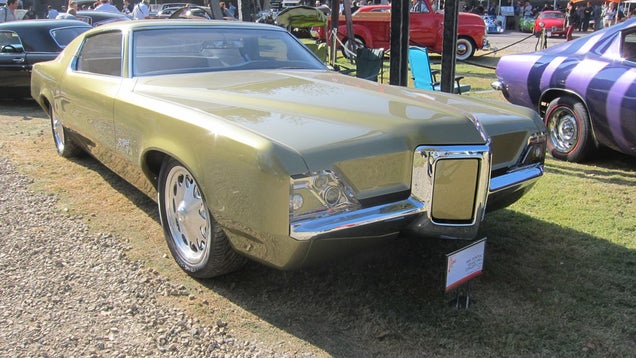 S
This is a 1969 Pontaic Grand Am concept, and has "Bill Mitchell GP" badging on the sides. It's sleek and definitively American-looking, but I feel like it must have some more recent updates — those headlights look way too modern. I'll have to look into this one as well.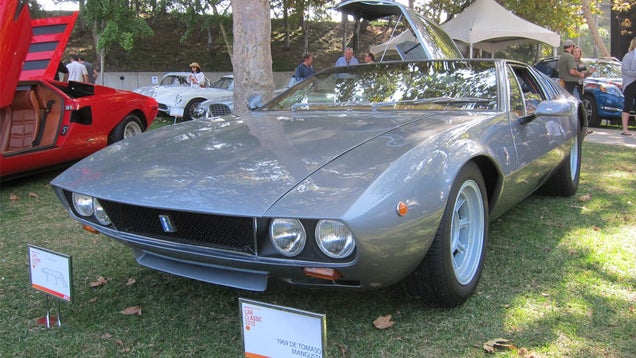 S
Let's end, for now, with a Mangusta. Because that's a great way to end pretty much anything.