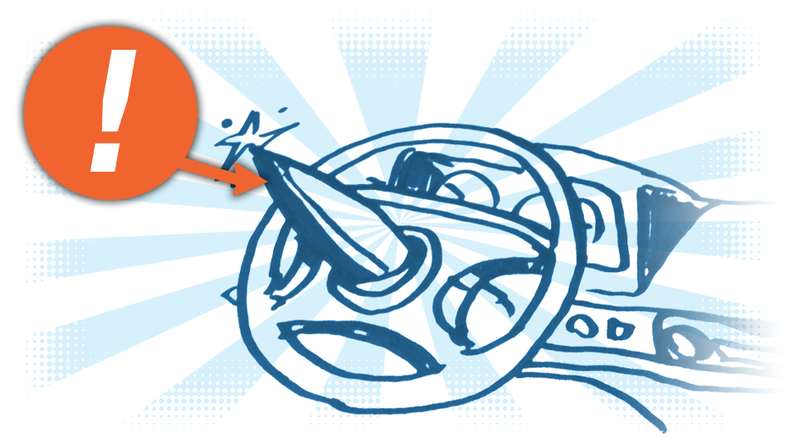 There's a school of thought that says that perhaps we'd be safer drivers if we were more aware of the inherent dangers of driving, as opposed to being so insulated from it, as we tend to be today. If there's a symbol of this way of thinking, it'd probably be the image of a steering wheel with a huge, scary spike sticking out of it. That concept actually has a name: the Tullock Spike.
The Tullock Spike, or, to sound more gearhead-friendly, the Tullock Steering Column was something first thought of by the noted economist Gordon Tullock. Tullock came up with the idea around the time seatbelts in cars were being mandated. The thinking was that seatbelts make drivers feel safer, and as such makes them more prone to risk-taking behavior, making them less safe.
Modern cars would make Tullock even more convinced of the need for the spike; airbags and crumple zones and adaptive cruise control and automatic braking and so many other features that make our cars so remarkably safe today also do have the effect of making us forget how insane the act of driving really is.
We're still hurtling down the road at speeds over a mile a minute, and most modern cars sure don't make you feel that way. While I'm not really an advocate of installing impaling tools in cars, I don't think Tullock is wrong, exactly.
I know that when I get out of a press car and back into my '73 Beetle, I'm acutely aware that I'm driving an absurd metal-and-glass egg at 60 MPH, and any fuckup on my part—or some other driver's part—means a very unpleasant chain of events that could end up with me and my car becoming merged in ways I'm not eager to think about.