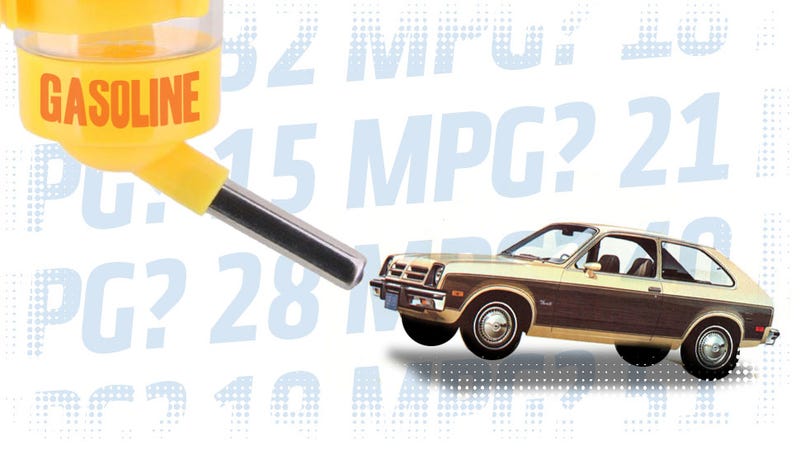 Just a few days ago, we reported that General Motors had to stop sales on 60,000 crossovers because the labeled fuel economy ratings were wrong by one or two miles per gallon. And just last month, lovable losers Mitsubishi got in trouble for messing with tire pressures to get better MPG ratings, a few years ago overstated fuel economy numbers cost Hyundai a ton of money. All these guys cheated or made mistakes for 1 or 2 MPG because our current rating system is stupid.
One or two miles per gallon is within the realm of error of MPG testing, yet these companies thought a specific number was important enough to try and game the system. And that's to get to a number they can use in advertising that doesn't really mean what we think it means, anyway.
So what's going on?
The problem is that a long time ago it was decided that we needed one number, one easy-to-advertise and compare number, to describe how far a car would go on a gallon of fuel. It wasn't even until the oil embargo of 1973 that formalized fuel economy ratings were even bothered with, and by the 1980s MPG ratings became significant selling points for cars.
Manufacturers featured the MPG numbers in their ads—it was realized one number wouldn't really do the trick, so we got one for city and one for highway—and for the next decade or so, we mostly accepted that those values were accurate.
Today, though, almost all new cars have in-dash displays capable of showing a car's real-time and average MPG, and very often those numbers don't match what is on the window sticker. That means that everyone, not just those of us who got off on doing long division, could find out what their MPGs actually are in the real world. Sure, today we've added a third number, a combined average of the city and highway numbers, but really we're still rating MPG as a solitary value.
And that's the problem. The idea that two numbers (or, one "combined" number) give an exact idea of the sorts of fuel economy you can expect from your car is, frankly, ridiculous.
Fuel economy is absurdly hard to really measure with any degree of accuracy or consistency. The EPA actually does try very hard to get accurate numbers with their complicated testing procedures. Our own David Tracy goes into their whole process here in detail so you can see what I mean, but the truth is that a solitary value for MPG is a fiction, or, at best, only true for one specific set of driving conditions and for a particular driving style.