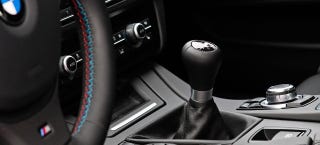 These ten cars are saving the manuals with more power! That's the best way to do it.
---
10.) Ram 2500 Cummins
Torque: 660 lb/ft
While this diesel Ram only has 350 horsepower, its torque had to be tuned down to 660 lb/ft from 800 in order for that manual gearbox to survive. It doesn't make much sense, but who cares? Truck yeah!
Suggested By: maximum sarge
---
9.) BMW M5 (US)
Power: 575 hp
While Europeans are stuck with the M DCT, the US got the BMW M5 with a proper manual. Don't ask why. What's for sure is that you can buy it with the Competition Package boosting power to 575 horses.
Suggested By: Evan McM.
---
8.) HSV GTS
Power: 576 hp
Our friends down under at Holden Specialty Vehicles really know how to make a GM sedan a burnout machine. It's got the same power as the equally-smallblocked Camaro ZL1. And maybe the SS will soon join it.