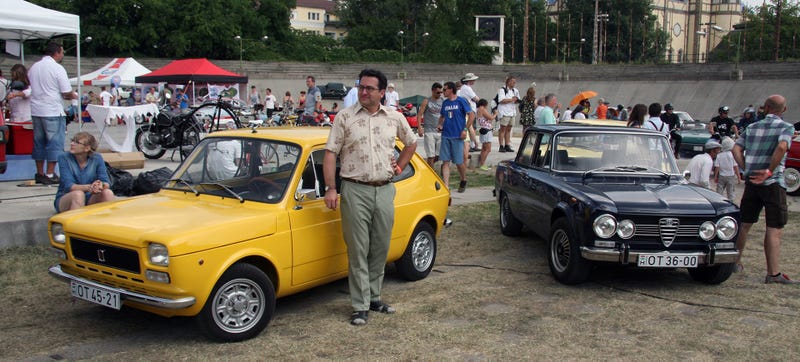 Not every car community is filled with douchebags. These ten groups of people are as good as auto owners come.
---
10.) BMW-Besitzer
Since many BMW owners out there are asshats, the ones who really appreciate the brand and the heritage act extra nice to make up for them. e30s2k says you will be pleasantly surprised:
Go to a BMWCCA meet with lots of classics and new cars both, where the owners truly love their cars, love driving them, and know everything about them, - everyone is absolutely wonderful.

I've recruited several non-BMW owners to our local chapter's Auto-X events and everyone is surprised by how low key and nice the BMW owners are - zero attitude towards non-owners and always willing to let you ride along and learn about the cars.
Suggested By: e30s2k, Photo Credit: jeffwilcox
---
9.) Tesla Nuts
While we can't tell whether Mailbox Cancer is being sarcastic or not (damn Internet!), I believe Tesla owners are open minded and smart enough to know that sharing is caring:
Not only are they largely incredibly nice people, but they're overwhelmingly evangelical about their vehicle of choice.

Especially the case with Roadster owners, since they'e the bonafide "early adopters" of the entire brand and 100% electric power train. And they're so enthused about their vehicle, that they are more than willing to open their garage and pull their car to pieces to show just a passerby every little interesting detail about the vehicle, let alone toss you the keys and say "go ahead!".

They are eager (to a fault) to take the most exciting slice of their life/hobby and share it with other people with nothing expected in return. They're awesome.
Suggested By: Mailbox Cancer, Photo Credit: monobot
---
8.) Miata Life
The answer is always Miata, but ncasolowork2 is right even without knowing that. There's a strong Mazda community and the MX5 might be their friendliest group of:
So many of them auto-cross their cars and work on their own cars that the owners are more than happy to help out a fellow Miata owner answer questions.
Suggested By: ncasolowork2, Photo Credit: gordontarpley
---
7.) Jeep People
Have you seen their wave? MrTheEngineer has:
Its a very specific wave, and it is only taught to Jeep owners, it's like a secret handshake. When you buy a Jeep, you are taught it, if you sell your Jeep and have no more Jeeps, your mind is erased of the secret wave MIB style.

In all seriousness, just a wave, but its a wave that has been happening for generations since the Jeep first became publicly available, so it may be the oldest running vehicle wave (maybe only second to motorcyclists), and while it may be copied (Mini, Miata, S2000, etc), it will always be the original, which makes it the best wave (sorry Mini, Miata, S2000, etc. owners).
Suggested By: MrTheEngineer, Photo Credit: Aidan M. Grey
---
6.) AMC Keepers Of The Flame
While Ford/GM/Mopar people are having a fight, you can always find shelter at the AMC crew. justregisteralready met the right people:
I've found AMC guys to be the nicest. There is too much rivalry between the Chevy-Ford-Mopar guys and they can spend more time bashing each other's cars than actually talking about their own cars. I haven't met any AMC guys that do that.
That being said, Jonee hasn't.