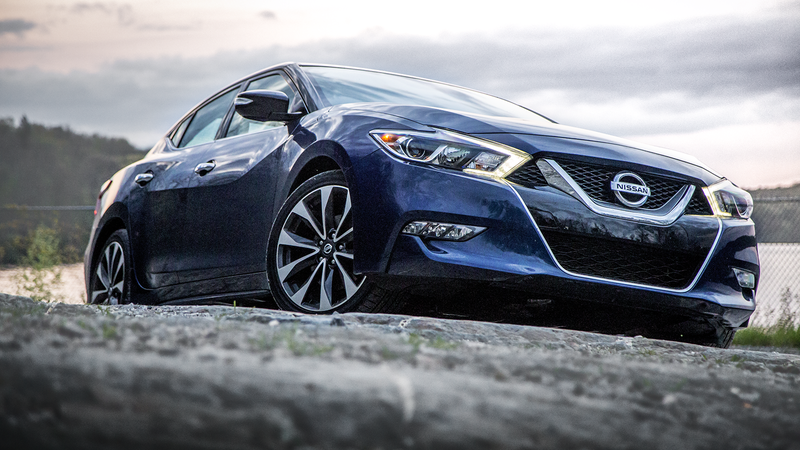 I am a huge fan of the Nissan Maxima. It was my first car and the platform I cut my modding teeth on to become the wrenching fool you see today, so you can imagine my level of excitement when I got the chance to drive a brand new model, with the better handling SR package, no less. Unfortunately, I learned that perhaps the Maxima's best days were alongside my rose-colored memories—stuck in the past.
(Full disclosure: Nissan wanted me to drive the 2016 Maxima SR so badly that I had to borrow a fully-fueled press car from fellow journalist Chris Chin and drove it particularly hard throughout the wooded areas of northern New Jersey.)
When 4DSC Meant Something
Come with me on a journey to 1993, when music didn't sound like dueling fax machines, and playing video games wasn't considered a viable career path. Everything made sense. That is, everything except Nissan's Maxima.
You see, back in the day, the third generation Maxima wore a "4DSC" decal on its rear side window, an abbreviation for "four door sports car." The badge might has well have said "fat-free pork rinds," as a front-wheel-drive sports car with four doors almost by definition could not exist. Yet here we were.

Despite its mechanical handicap, the old Maxima carried itself quite a few degrees more purposefully than what you'd expect from something with five seats and a seriously nose-heavy weight distribution.
The formula that Nissan employed was as follows: couple an over-engineered four wheel independent suspension with a capable and torquey 300ZX-derived V6 engine and mate it all to a fun-to-shift five-speed manual transmission.
That, and the fact that the Maxima was light enough to vigorously chuck into a corner without expecting the laws of physics to deliver an equal-and-opposite roundhouse kick to your head. It was faster than most anything in its class in both a straight line and around a corner.
A slightly altered formula in the next generation Maxima included an even lighter 3,000 pound-ish body motivated by a more powerful engine and a fittingly robust five-speed manual transmission. Cost-cutting measures implemented after economy fell out on Japan in the mid-1990s meant that the rear suspension was no longer independent. The car relied a rear beam tying the back wheels together, an technological step backwards that unsettled the car during bumpy, off-camber turns.
Even with the demotion of some suspension component quality, the fourth generation Maxima was a quantum leap forward mechanically. It blitzed its zero to 60 mph run in just over six seconds, helped in no small part by its rev-happy VQ-series V6 engine that sported a mammoth (for its time) 10:1 compression ratio and all-aluminum longblock.
The VQ earned a spot on Ward's 10 Best Engines list for the next decade, as the engine was Nissan's go-to powerplant for efficiency and reliability. It would also serve loosely as the basis for the GT-R's unbeatable VR38DETT, and it all started with the fourth generation Maxima - a car every bit as deserving of its 4DSC namesake as its boxy predecessor.