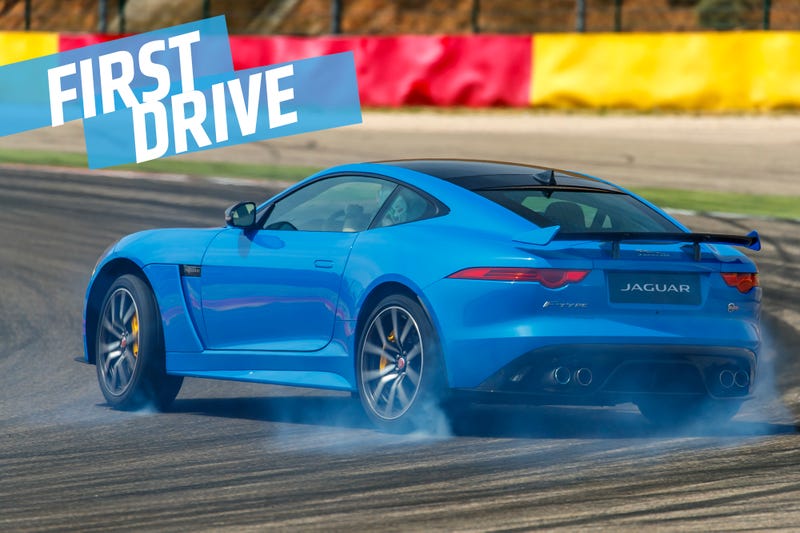 Jaguar wants you to think it just loves to be bad. It even hung a whole advertising campaign on that notion. So really, the biggest surprise about the new F-Type SVR is not its bewildering aggression, or its newly sharpened handling. The real shock is that it took Jaguar Land Rover Special Vehicle Operations two years to try and deliver on the implicit promise their name insinuates; to finally produce a special F-Type that doesn't hold back. An F-Type with no limits.

Think of SVO to Jaguar as the M to BMW, the Quattro to Audi, or the AMG to Mercedes. Or at least that's how they billed themselves to the journalists assembled at Motorland Aragón in Spain. But is it just hot air, or is there some substance to this upstart crew?
Sideways on a racetrack, at 90 degrees, all four expensive forged 20-inch alloys, spinning vainly forwards under the load of 575 barking supercharged horses, I would have to say YES.
Yes, there's some substance to this promise. And, as tire smoke finally begins to curl in through the dashboard ventilation, I conclude that the new SVR is properly mental. But maybe not as mental as it could be.
(Full Disclosure: Jaguar needed Jalopnik to test this car so badly that they booked me four flights with Lufthansa when I could have flown a return flight with a budget carrier. Then they put me up in a hotel that could have doubled as a Bond villain's lair, gave me two days with their latest creation, and left some rather pretentious leather driving gloves on my bed. I did rescue a Jaguar baseball cap that was left on the back of a car.)

Hit The Road, Jag
Which is surprising, because when I first drove the car across the Spanish landscape this morning, it felt pretty much just like an F-Type R. The standard, run-of-the-mill, bonkers Jag grand tourer with "only" 550 horsepower. You know, the car that only slightly concusses you with accelerative forces.