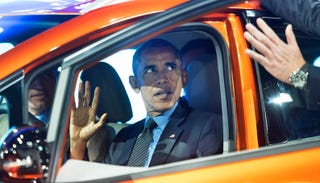 The Obama administration is trying to check as many policy boxes as it can on the way out of the door, and today it finally announced a flexible framework for companies and governments involved in developing self-driving cars.

President Obama took just a few short minutes during his final State of the Union address earlier this year to push for what he heralded as a "21st Century Transportation System" that was mostly concerned with transitioning from fossil fuels to alternative energies, with no mention of the burgeoning self-driving car movement.
Meanwhile, dozens of companies from the automotive industry and Silicon Valley have been hard at work developing the future of the automobile, with Google, Tesla, Ford, General Motors and Maven, Uber and dozens of others shifting research and development towards self-driving vehicles—many companies already operating functioning prototypes in multiple states. And yet, back in January, Secretary of Transportation Anthony Foxx announced that the federal government had no plans for national regulations.