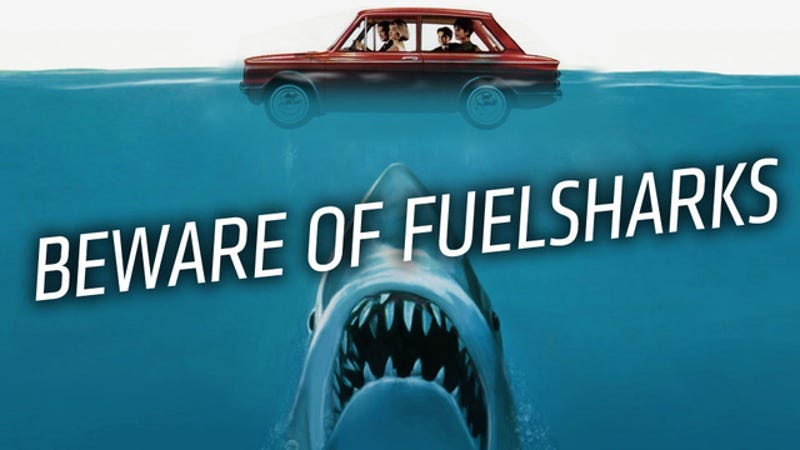 You may have heard about the Fuelshark. According to the package, you may have seen it on TV. That same package also says the Fuelshark will save you 10% or more on gas, and all you have to do is plug it into your cigarette lighter. Too bad the Fuel Shark is bullshit. And it's $39.95 worth of bullshit.
Seriously, you could plug an olive into your 12V socket and get similar results to what the Fuelshark does. And most of our regular readers will know this. But there's still plenty of people out there who are bright people who don't know or care about cars, and they want to save money on gas. Who can blame them? They may Google the Fuelshark, and find videos like this one from a Pittsburgh ABC affiliate:
Which, of course, may be enough to convince them that this thing actually works. Hell, they even have a quote from a Jaguar mechanic! He's got to know absolutely everything there is to know about car electrical systems from his years of dealing with Lucas electrics.
The point is, there are still many people buying the Fuelshark. The company claims they've sold over 10,000 of them. The company also sent me two review units, out of the blue, which started all this in the first place. So, let's get to some real science here, and allow me to explain why I believe the Fuelshark is complete and total snake oil. With science.
I should also mention that Fuelshark isn't the only product like this out there. There're others that use essentially the same methods and make the same claims, like the Fuel Doctor, and the results I found here would apply to those similar products as well.
First, I did the best, most controlled test I could manage to see if the Fuelshark had any effect at all. They claimed that it would work as well on older, carbureted cars as newer ones, so this first test I did with my '73 Beetle.
In order to isolate the results as much as possible from environmental conditions, traffic, etc, I decided to do a test where I could maximize control and minimize environmental variations. So, I ran a fuel line from the fuel pump directly to a gas can with 1/4 gallon of gas, then started the car and let it idle.
By idling at a constant engine speed, I could time how long it took to drain that 1/4 gallon. One run with the Fuelshark, one without. I also turned the lights on and off at set times in the test to vary the electrical load on the engine.
Here's the results: without the Fuelshark, the Beetle ran for 44 minutes, 37.18 seconds. With the Fuelshark, the engine ran for 42 minutes, 20.51 seconds. Which means it actually did a little worse.
I don't actually think the Fuelshark made the engine use more fuel — I just think it wasn't doing anything at all, and the results I got were in the normal range of variability. In fact, the Fuelshark people suggest testing this way:
we find that actual road tests show the best results as the Fuelshark works best when driving conditions are varied by road grades, turns, start/stops/ engine cut off and restarts, and highway driving combined.
... which is pretty much the best way to introduce as many variables as possible into a fuel economy test, and would cause the most variation in MPG no matter what the car had plugged into it. You would have to do a massive amount of testing like this to get any remotely credible MPG results.
So, I saw no result on my real world test, but to really understand the Fuelshark, we need to try and figure out what it's actually doing. The company claims the Fuelshark works in two slightly different ways. On their website, they claim
To maintain optimum electrical performance and improve MPG, your car will run better with a stable voltage environment. The Fuelshark provides just that. It is a multi-purpose Voltage Stabilizer. Fuelshark's design instantly stabilizes your car's electrical system, resulting in better fuel efficiency and overall performance. By stabilizing your car's electrical system, one big benefit is that your engine's spark plugs deliver a strong even spark, resulting in better combustion. This can increase power and MPG, in addition to having cleaner emissions.
And you'll notice they're also claiming better power and emissions, too. On the package, they claim the Fuelshark works by
... supplementing the required voltage for devices such as lights, stereos, power windows, etc. By using the Fuelshark, your car's battery does not struggle to provide the additional power needed to operate these devices.
This second explanation, at least, is grounded in reality, as Mazda is using a system (a vastly more complex system) that accomplishes essentially that to remove electrical load from the engine for increased fuel economy.