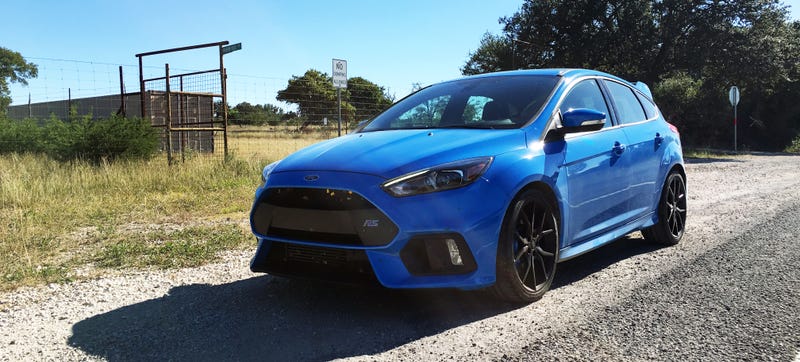 I don't think any car in 2016—as in, a car that you can actually buy, unlike certain others that shall remain nameless—debuted with as much hype as the new Ford Focus RS. It's not every day America gets the kind of forbidden turbocharged Euro-hatch hotness that would have been unthinkable just a couple years ago. I have driven one now, and I can tell you that not only does it live up to the hype, it's also the best and cheapest M car you can buy new.

Wait, what?
(Full disclosure: Some dudes from Ford came down to Austin for the F1 race [yes, I know that was a while ago, I've been busy planning all the cool stuff we're doing in 2017] with some Focus RS-es and asked if I wanted to join them for a road trip. I said yes. They also bought me lunch, which was kind of them.)  
Let me explain what I mean by an M car, first of all. Yes, it's the letter BMW uses for its performance models, as has been the case for decades now. And nearly every brand has copied or co-opted that idea by giving a car a fancy letter and a bunch of performance upgrades to justify an inflated price tag: brakes, power, suspension, all that wonderful stuff.
But they don't all take that idea far enough, or to its fullest extent. An M car, a proper and real M car, is supposed to be a double-duty car. The badge stands for Motorsport, which it doesn't really mean anymore since they don't truly use motorsport-derived engines, but it's supposed to be a car that's comfortable and usable as a daily driver and a ferocious track monster when you need to be that.
A real M car is something that's not so hardcore that you can't live with it every day. A real M car is also something that won't fall on its ass when you need to drive it hard, or on the track. Not every performance car can pull off both qualities. Most M3s can do this. An ATS-V can do it. The R-Spec Hyundais can't because they fall down in the performance area; the European Honda Civic Type-R is awfully hardcore for a daily driver. You get the idea.

This brings me to the Ford Focus RS, which, coincidentally, has a badge with historical ties to BMW's own M division. It's possible M wouldn't exist without RS, in fact. Read up on their shared history, it's fascinating stuff.