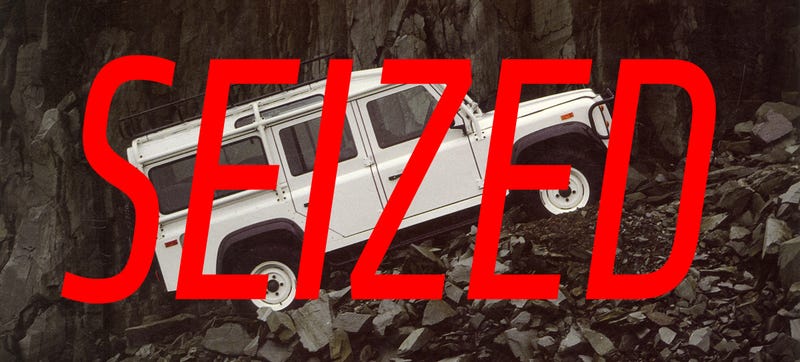 Some 40 Land Rover owners across the U.S. woke up Tuesday morning to police and federal investigators knocking on their doors and demanding they hand over their trucks. Officials say it's part of an ongoing criminal investigation into the illegal importation of Land Rovers into this country, Jalopnik has learned.
But that will likely come as little consolation to the 40 owners of the Land Rover 90s, 110s and Defenders, many of whom contest what federal authorities claim about the legality of their cars.
News of the seizures first appeared on the Land Rover Defender forum Defender Source around 8 a.m. Tuesday, when one user posted to say that the U.S. Department of Homeland Security came to his home at 6:45 a.m. to seize his truck. That user was quickly joined by several others, who said their Land Rovers were confiscated by investigators who came to their homes with federal warrants.
One of them was Danny Harrington, who lives in Albany, New York. Last year he bought a 1983 Land Rover 110 through a friend in New York. He told Jalopnik that police drove around his residence looking for his truck, and then went to his parents' house 10 miles away to find it — a house where it wasn't even registered.
"They told me it was illegally imported, and the guy who imported it last year falsified the paperwork on the truck," Harrington said. The investigators came to the house with a list of VIN numbers and said his was on it, and that they were taking it with them.
Curiously, Harrington said police insisted his Land Rover was a year 2000 model. He says that his VIN number definitely goes back to a 1979 to 1984 truck, and not a newer one.
"It's clearly a 1983," he said of his very obviously older project vehicle. "It's not a show truck. It's a mess. It's a work truck."
Vincent Picard, a spokesman for U.S. Immigration and Customs Enforcement, said authorities believe the cars were unlawfully brought into the U.S.
"ICE Homeland Security Investigations special agents served court-ordered seizure warrants on approximately 40 Land Rovers in various locations around the country," he said in an email. "The seizures are being made pursuant to an ongoing criminal investigation involving the unlawful importation of the vehicles from Great Britain. The Land Rovers, which do not meet federal safety or emission standards, cannot be lawfully operated in the United States."
That was news to Harrington, who says he bought the car legally in New York last year and has a title to prove it. "I don't even know who imported it," he said.
Forum member Hitch weighed in as well:
I had 2 homeland security agents, state police, and local sheriff in my drive way when I went outside to go to work today. My, what I believe to be an 1986 110 was arrested and seized about 8:30 this morning.

When I purchased my vehicle I went to NC from Florida to look at and drive it. I compared the VIN on the bill of sale to the frame VIN and the VIN plate near the master cylinder. I in no way thought I was gambling in purchasing a vehicle that was licensed in NC. and had been in the states for a year prior to me purchasing it. The state police detective showed me where the engine block VIN had been filed and re-stamped.

On the dept of treasury process receipt it lists Land Rover Vehicles and the defendant. There are 61 VINS listed on the warrant. I was told I have 35 days to file a claim and was not given a form or anything to file. I spoke to the attorney listed on the complaint and he told me the case is still and open investigation and could not talk to me about it for another 24-48 hours.
So it's possible more than just these 40 Land Rovers are being targeted.
Picard directed further questions to the U.S. Attorney's Office for the Eastern District of North Carolina, but an official there said the case was under seal and that no one could discuss it.
So it's not clear exactly why the Land Rovers have been taken, but last year some 20 Defenders were seized by Homeland Security and Customs from a chiropractor's house in suburban North Carolina, Car and Driver reported at the time.