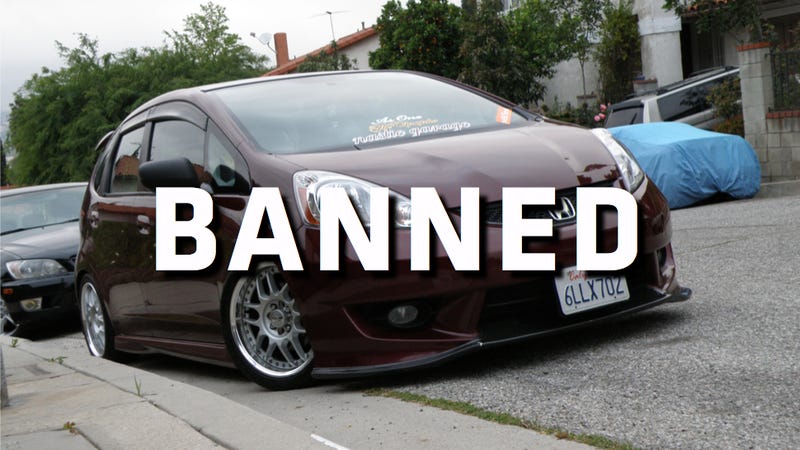 Those nogoodniks up in the frozen French north of Quebec just decided to ban your sweet, sweet hellaflush ride, all because stancing it out affects handling and maneuverability in a province with snow nine months out of the year. But we all know that really, it's just The Man trying to keeping you down.
And The Man doesn't even care how much you spent on those rims for your mom's Honda, according to MontrealRacing.com, who first picked it up.
The best part about this whole thing is that the Quebec government, which apparently thinks that hellaflush cars are such a problem that they've issued a directive explaining why the style is prohibited, and how to recognize the stanced menace:
Hellaflush

Le hellaflush est une pratique esthétique réalisée au détriment de la tenue de route et de la maniabilité d'un véhicule. Il s'agit d'une mode qui consiste à :

abaisser la suspension d'un véhicule;
installer des jantes surdimensionnées et déportées (offset supérieur à celui des jantes originales);
monter des pneus trop étroits pour la jante (tire stretching).

Ces modifications, qui affectent la géométrie de la suspension du véhicule, sont généralement observables par la présence d'un carrossage négatif (

negative camber

) exagéré. Voici un tour d'horizon des principales modifications entraînées par le

hellaflush

et les raisons pour lesquelles cette pratique est interdite.
Yes, they actually used the term "hellaflush." In case your French is a bit poor, OppositeLock user Luc.A. kindly translated the first bit into English: