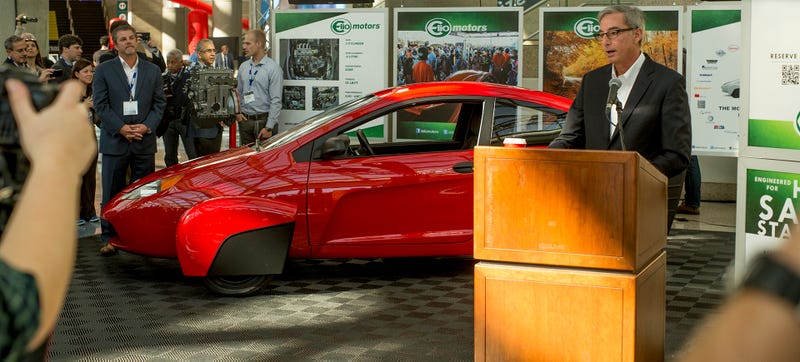 Mr. Elio showed off his newest Elio Motors P5 prototype today at the LA Auto Show, surrounded by an applauding crowd of freaks, fools, and local amateurs. Here is the halfway not-a-car that they so desperately desire.
I cannot stress enough how packed the crowd was with those cast off by the rest of society, desperately hoping to cling to something, anything, to keep them going. Utilikilts, white people dreadlocks, and bluetooth headsets were the norm. Wide, bright eyes staring at camcorder screens, recording for five-view youtube pages hailing a new savior for their economy, their country, their life.
Elio is supported by individual deposits of a few hundred dollars down on a $6,800 final vehicle. It was a crowd of the easily suggestible. More than that, everyone seemed to have a hairbrained theory or scheme of their own. I stood and watched as Mr. Elio himself had to listen a big, bland, divorced-looking dude talking about some environmental bicycle or I don't know what. Elio's face could not have looked more flat.
The feeling surrounding Elio has changed. It used to feel like Kony 2012 in a car—half-baked and never going to happen. Now that it's been years that Elio has been around, for years, it has a kind of momentum. It might be weird and out-of-place, but it could very much happen.