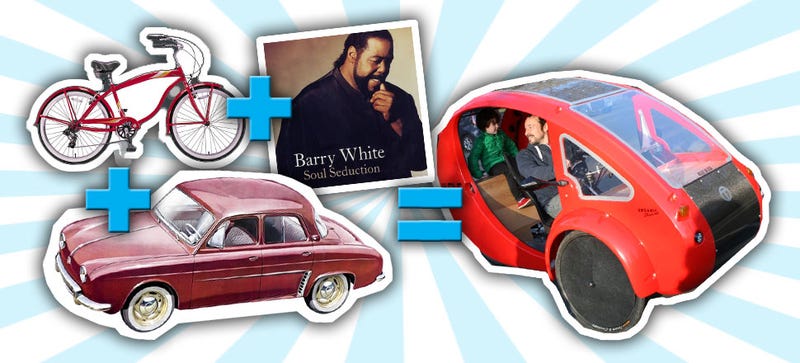 Of all the press cars I've had since I've moved to NC, the one that's gotten the most attention by far has no doors, no floor, and all of one lonely horsepower. It's both the crudest and yet most futuristic vehicle I've had so far. It's a fascinating halfway point between bike and car called the ELF. I had one for a few days, and only tipped it over once.
FULL DISCLOSURE: Organic Transit wanted me to drive an ELF so much they let me have one for three days, and weren't even that mad when I broke two of its mirrors. Also, they gave me the benefit of the doubt of being able to physically pedal anything harder than a trash-can-opener, which was sweet of them.
The Organic Transit ELF is built right nearby, in Durham, NC, in a small but efficient-looking workshop/factory. The man behind the ELF is Rob Cotter, and he's not a car-hating oak-embracer like many would expect. In fact, the man's automotive history is rock-solid: his first car was a non-running Fiat 600 he got at seven years old (his plan was to put a Chevy 283 in there, and managed to push one home in a shopping cart), he currently has a beautiful Morris Minor Traveller, and much of his career was spent designing and building racecars for BMW and Porsche.
His racing career instilled in him a love of lightness and elegant, minimal designs, which led him to the purest expression of these engineering ideals: human-powered cars, later becoming the VP of the Human Powered Vehicle Association. This ultra-light engineering path led him to design and build a solar-powered racecar in 1988, and the legacy of these designs are easy to see in the ELF.
And that's the thing about the ELF — if you take a step back from your conventional-car prejudices and ideas, you realize what a remarkable design this little three-wheeled snail shell really is. Walking around the factory, Rob pointed out all the difficult production problems and solutions they came up with to make this a viable vehicle.
Take the body, for example. Conventional fiberglass or plastic construction wouldn't work for what he needed, so he had to convince a kayak company to give a try making the deeply-pressed panels — and it worked, making something lighter and stronger than has previously been used on anything like this. The aluminum frames (also made by a supplier in North Carolina) are aircraft-grade 6061T aluminum alloy, carbon fiber panels can be specified for use on other panels, there's an advanced flexible solar panel on the roof — the whole thing is made with state-of-the-art lightweight design and materials.

The end result is a finished vehicle that weighs about 160 lbs — essentially me carrying a bowling ball. That's a pretty astoundingly low number for any motor vehicle, especially one that's even partially enclosed. Building something to be both light and strong is one of the hardest challenges in all of motoring, and I think the ELF is a pretty impressive result. It's not solid, like a conventional car, but it also doesn't feel like some flimsy piece of crap. I bet people used to dealing with small aircraft will be more at home in it than people used to conventional cars, at least at first.
The Organic Transit people were nice enough to give me an ELF to use for three days, and during those three days I tried to use it as my only transportation as much as possible. My perspective going into this was one of a pretty unashamed car guy— I'm not someone who's used a bicycle as my primary mode of transport for years, and while I appreciate the environmental benefits of such a vehicle, I tried to be as objective as possible and just think of it as another form of vehicle.
Let's just take a moment here to describe the ELF in more detail. It's a tail-dragger three-wheeled machine, using high-end bicycle wheels. It has a sort of ovoid plastic body that's open at the doors and below your feet, where there are a set of bicycle-like pedals, which your feet must remain in contact with.
The roof has a solar panel to trickle-charge the battery, and inside there's a solitary seat (it can be ordered with a rear seat as well) and a decent-sized rear luggage compartment that could hold a couple full paper grocery bags and a laptop bag or something. The front has a set of handlebars which connect to the front wheels in a full Ackermann steering geometry, the linkage of which Rob described as looking like "the throttle linkage in a Jaguar E-Type."
There's a bicycle-type manual CVT transmission (yes! A manual CVT!) control on the left and the throttle for the 1 HP electric motor on the right. One HP is all the ELF is legally allowed to have, since on the books it's considered a motor-assisted bicycle, which means it's exempt from most motor vehicle laws and it's allowed to drive on bike-only paths. That's also why it's the width it is, which was chosen to be the widest comfortable width that can still fit between the bike-only barriers on most cycling trails.