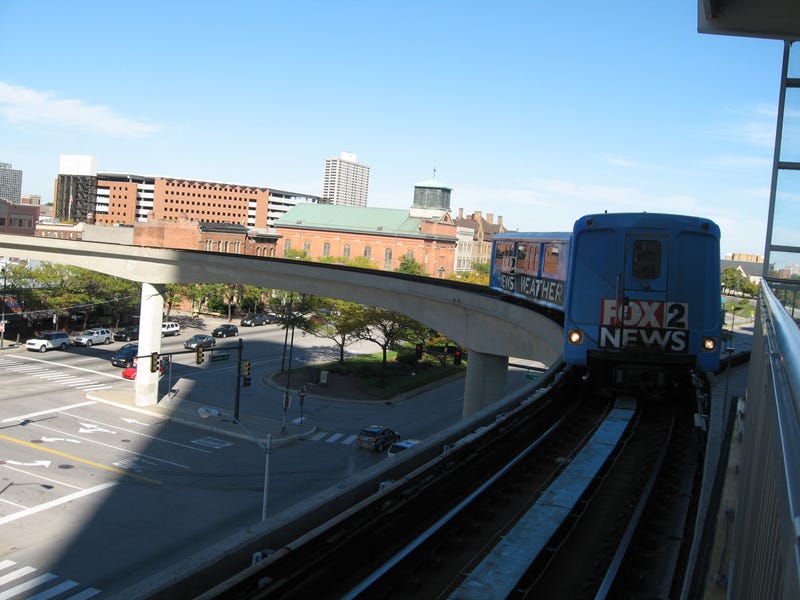 Earlier this month, in an effort to showcase previously failed "good-intention" initiatives for Detroit, all pegged as game-changers for the city, The Washington Post mentioned The People Mover, an elevated 2.9-mile *rail line that circles the downtown business district "that hardly anyone rides today."
Two weeks before Detroit filed for bankruptcy protection, The People Mover was closed briefly for maintenance repairs. As a follow up, MLive asked its readers, "Is the Detroit People Mover a viable form of mass transit or a useless joke of a system?"
Considering the system spans 13 stops around downtown, takes less than 15 minutes to complete a full cycle, its sole purpose is to ship people to main landmarks, and no other form of alternative transportation has ever been constructed to feed into The People Mover (as it was intended) — I can't see why this question is asked. The answer is evident in its design. It only serves a tiny swath of land of Detroit's vast landscape. It's fundamentally incapable of being a success. But we are not going to dismantle The People Mover. It is embedded into the city's DNA like this region's support of the Detroit Lions no matter how much they suck some years.
Bashing the system is a favorite pass time for many. It's, like, a really funny joke. ("This thing is so pointless!" says the hockey fan en route to Joe Louis Arena from Greektown Casino who later comments: "Yeah I use this whenever I come to a Red Wings game. I guess, yeah, it's really convenient.")
It's not going anywhere, though, so we should agree to embrace it with open arms, with all its carnival ride creaks and ceaseless pre-recorded stop announcements, because The People Mover is awesome.

Yeah, the People Mover has been previously stricken by cutbacks that nearly forced its closure, damaged by a planned department store demolition that caused an actual closure, and rankled by long-term arguments regarding its cost-effectiveness, at times spending $3 for every .50 cent rider fare, The Detroit News found.
But it's a great way to get around downtown, beats sitting in a car or taxi (yeah, I get it, you can bounce from Greektown to Grand Circus Park by foot in a matter of minutes — with Michigan's weather, I'll pop a squat over walking more times than not), and clearly serves its purpose for carting mass amounts of people around for bigger events (e.g., the 2006 Super Bowl, the annual North American International Auto Show).
Want a cheap date? Eat a burrito at Hot Taco, ride around the People Mover a couple of times, stop at the Renaissance Center, convince the Coach Insignia employee manning their elevator to let you ride up to the restaurant, and enjoy coffee and dessert while overlooking the entire city 72 stories high, and then ride around the People Mover more, or something.
Typically, the most common counter-argument waged against The People Mover's existence is the majority of its riders are suburbanites visiting the city for a sporting event or concert — a carnival ride for the rich. On top of that, the majority of funding comes from grants and subsidies, so those who argue government waste(!) have a ball. Add in the smaller-than-expected daily ridership, and you get sound bites like this:
Another telling statistic about the users: Ride figures for Saturdays routinely dwarf those for weekdays. The vast majority of the system's users are clearly suburbanites and out-of-town visitors, who pay only a 50 cent-per-ride fare that regularly covers less than 10 percent of the line's annual operating cost (and often less than 5 percent). The People Mover celebrates many wasteful accomplishments as it turns 20, but few stand taller than fulfilling what that wise Detroiter predicted back in 1986: It really is a rich folks' roller coaster.
Except, what was predicted back in the 1980s was nothing more than an educated guess. The concept of a "people mover" was spawned in the 1960s, wasn't something anyone pursued until the following decade; and, then, after almost 70 cities submitted interest in such systems, followed by the Reagan administration trimming federal support, only three projects were green-lighted — one of which was Detroit. And, even more, most public transportation systems rely on this sort of multi-sourced funding mechanism; fares don't usually cover the entire pot.
As a 1985 report from The Los Angeles Times confirms no one really knew what the hell to expect with building such a system:
The conditions were ripe for a crisis. Federal officials allowed the project, conceived as an experiment that would test new technology, to issue a cost-plus contract to a Canadian developer, because no one knew how much such a system would really cost.

And, despite the fact that its technology was untested, ground was broken for the People Mover in 1983 after only 3.6% of the engineering work on the site had been completed, according to Michael Niemann, spokesman for the Southeastern Michigan Transportation Authority, the regional transit agency that initially administered the project.

nevitably, problems soon developed. Drastic design changes were required because of the lack of engineering studies, and the route was continually altered to accommodate new developments, such as the expansion of Detroit's convention center.

With no lid on costs, overruns quickly mounted. From an initial budget of $137 million, the People Mover's price has risen by $73 million, and could rise further.
Sound promising? Not to me, either. Let's take into consideration all the possible managerial mishaps, the reported lack of accountability in how funds were being spent, and then calmly set that aside. Detroit's People Mover was a grand experiment that, unlike the Miami system, came without a separate mass transit line that feeds into it. That is something The Los Angeles Times noted as being an integral part of the plan all along. The federal funding for a light-rail system that stretched into the suburbs never materialized, so, we got what we got. How has Miami's 4.4-mile system fared? From The Atlantic Cities:
The goal of the Metromover was to facilitate travel between the city's metro system and the downtown core, and in many respects it's been a great success. Today 8.8 million passengers a year ride the monorail; the fare is free, and the cars run nearly round the clock, arriving every 90 seconds at peak and every 3 minutes all other times. Still the price was quite high: $660 million in today's dollars.
The price was high, sure, yet Dade County officials, as of this spring, began floating the idea of expanding the system because it's been a success.
Now, today, plans are in the works to finally construct a streetcar line that should move extra riders onto the People Mover. Construction of the Woodward Streetcar Line is expected to begin soon. It's gone through multiple iterations since being proposed in 2007, the final one being a version critics have seized upon.
A curb-running streetcar system that runs on Woodward only between downtown and the New Center district, curiously neglecting the Rosa Parks Transit Center, seems short-sighted. (It feeds into the Amtrak station, which is great, but, a couple of the stops, as we've noted previously, will virtually serve no purpose for years.) Modeshift notes, studies show side-running streetcars present possible safety problems, don't take into consideration cyclists, and have the obvious potential of getting tied up with traffic.