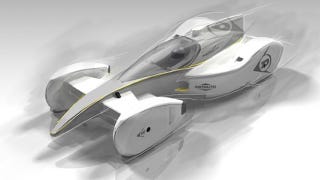 Ask a dozen people what the future of racing will look like and you'll get a dozen different answers. But if you take the best ideas, hand them to renowned racecar designer Sergio Rinland, and tell him to create something amazing, you get this. And no brakes.
The Dunlop Future Race Car Challenge was a collaborative design project that took fans, engineers, and experts and asked them to envision what racing could look like. That was distilled by Rinland, who's done design work for both Grand Prix and Le Mans teams, and the result is a streamlined, closed-cockpit racer with both active aerodynamics and tires, an energy recovery system that does away with brakes, and an electric power plant that brings slot cars to life.
The ERS replacing the brakes is actually the least insane part of the project. By using four hub-mounted motors with torque vectoring and regeneration, the energy would be stored in flywheels – which Porsche has already done – or in always-promising super-capacitors.