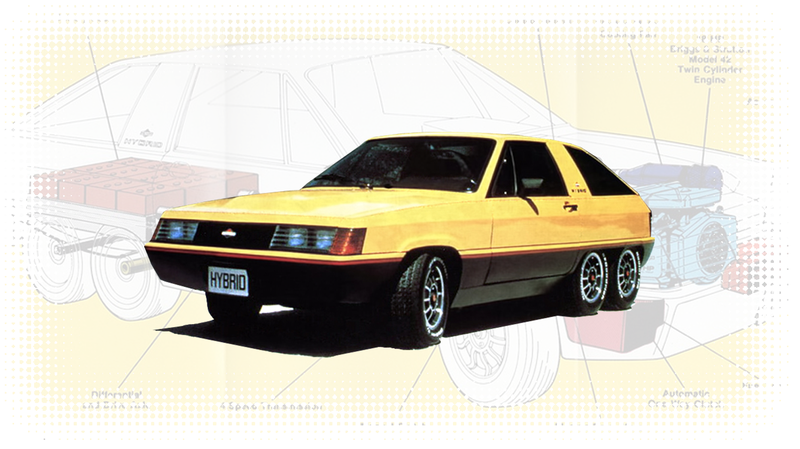 I bet most of our readers who don't live in apartments have some kind of Briggs & Stratton engine around, to blow things or cut things or turn things into piles of little thing-chips. Maybe apartment dwellers have them in some badass vacuum cleaner, even. Who knows. What I'm excited about is the one time Briggs & Stratton built a whole, actual car, and how nuts it ended up.
The car is the amazing 1980 Briggs & Stratton Gasoline/Electric Hybrid concept car. In some ways it was way ahead of its time, and even came up with some really novel solutions to problems we still have today; in other ways, it was just bonkers.
Briggs & Stratton makes small engines, as we all know. Little single-cylinder lawnmower engines that make four horsepower, or generators, or things like that. But they also make some twin-cylinder engines that start to approach the realm of automotive engines, like the 694cc air-cooled flat-twin 18 horsepower engine they released in 1980. This engine is what B&S wanted to showcase, and was really the whole motivation behind the car.
Many of you probably realize that that's the same kind of engine that powers a Citroën 2CV, and has about twice the power of the original 2CV. So the idea of such an engine in a car is hardly far-fetched.
Still, it was 1980 and America, so 18 horsepower isn't going to cut it on its own. So, to make things more interesting and to give the car a bit of extra horse-oomph, the decision was made to have the car be an experimental gasoline/electric hybrid car. Hybrid cars weren't new (Porsche made one way back in 1899) but they weren't common at all, and still a good two decades away from their resurgence as Prii and other electro-gasical driving appliances.
So, in this sense, Briggs & Stratton were way ahead of their time. B&S didn't allocate all that much money for their concept car project (about $250,000 total, which I'm told was "relatively low") so to save on development, the chassis came from an electric six-wheeled delivery van from a Canadian – even better Quebecois – company called Marathon Electric Vehicles.
The six-wheel setup was interesting, and justified thanks to a very novel idea: only the forward set of rear wheels (the middle wheels) was driven by the two drivetrains. The rear set was really a sort of integrated trailer that housed the heavy batteries.
By being mounted on their own axle, the (nearly 1000 pound!) battery pack could be easily disconnected, rolled out, and replaced without even having to get the car on a lift or anything. It looks weird and insectile, sure, but it's really a pretty clever solution for the very sticky problem of how to best handle battery swaps.