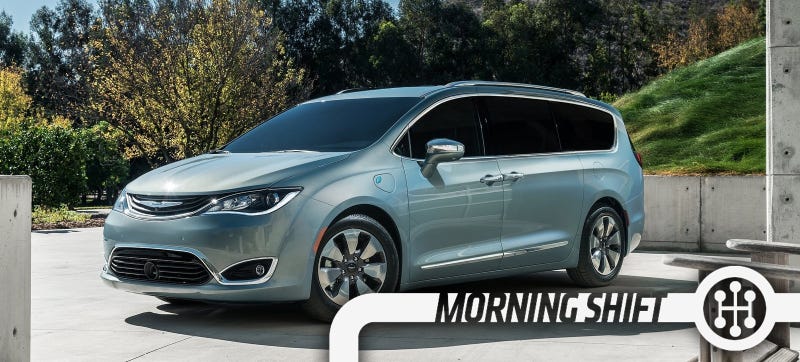 Good Morning! Welcome to The Morning Shift, your roundup of the auto news you crave, all in one place every weekday morning. Here are the important stories you need to know.
1st Gear: The New Google Van
By now you've probably heard about the partnership between Fiat Chrysler and Google that's reportedly in the works. At least one form it could take is several dozen Google self-driving car prototypes based on the new Chrysler Pacifica minivan. Here's Bloomberg (via Automotive News:)
Fiat Chrysler plans to equip the new Pacifica, which will be available as a plug-in hybrid, with Google technology starting this year, said the people, who asked not to be identified before an official announcement. The companies would remain free to cooperate in driverless technology with other partners, the people said.

[...] The accord would mark Google's first with a major automaker since the technology giant began developing self-driving cars on its own in 2014. For Fiat Chrysler, the deal would provide a shortcut to features that have taken on growing importance for the auto industry. Fiat Chrysler Chairman John Elkann said last month that the Italian-American carmaker should work with "new industry participants" such as Google and Apple Inc. rather than compete with them.
It fits with CEO Sergio Marchionne's vision for consolidation, the news wire reports, which is driven by the idea that automakers waste too much time developing their own technology when they should be sharing.
2nd Gear: FCA UP, GM Down, Ford Up
It's monthly sales figures time again! In April, Ford and FCA posted gains, but General Motors was down a bit as it scales back its rental biz, reports The Detroit News:
GM reported a 3.5 percent loss in sales last month compared to April 2015 primarily; Fiat Chrysler gained 6.5 percent; and Ford was up 4 percent. All sales were in line with analyst expectations, putting last month on track to be the best April for U.S. vehicle sales ever.

"We saw strong consumer demand in April, especially for pickups," said Mark LaNeve, Ford vice president, U.S. Marketing, Sales and Service. "F-Series has moved past the quarter million sales mark year to date — the strongest start for F-Series in a decade, while Ford brand SUVs are having their best year ever."

Ford's truck sales rose 14.8 percent while its SUV sales rose 7.7 percent. Car sales, which have struggled, fell 12 percent.
Nobody's buying cars anymore, only SUVs and trucks :(
3rd Gear: Labor Dispute At Volkswagen In America
Part of the workforce at Volkswagen's Tennessee plant is unionized under the United Auto Workers banner, but not the entire plant.
But since that happened last year, Volkswagen has not sat down with those skilled trades UAW workers to negotiate wages and benefits, leading to a battle detailed in this Reuters report:
The U.S. National Labor Relations Board has issued a complaint against VW for not bargaining with the skilled trades workers. The automaker has until May 10 to respond to the complaint, but has already said it plans to take the issue to U.S. courts once the NLRB process is exhausted.

Though Volkswagen's stance appears to be aimed at blocking the UAW, it has said that it only wants all its hourly employees to decide on whether to accept union representation before resolving the dispute.

VW said last week it "will continue our effort to allow everyone to vote as one group on the matter of union representation."
4th Gear: Nissan Ads Focus On Safety
Nissan has decided that it doesn't have any brand identity in the U.S. (it doesn't, besides "Okay car that isn't a Toyota or Honda you got with good discounts") and so its new campaigns will take a page out of the Volvo and Subaru playbooks to focus on safety. Here's Advertising Age (via Automotive News):
The changes come after much soul searching among Nissan marketing and sales leaders and its agencies as the automaker in recent months studied how to improve its brand positioning. The process was sometimes painful, as evidenced by recent comments made by new U.S. sales boss Christian Meunier. In a recent interview with Automotive News, he critiqued the Nissan brand as "vague" despite billions of dollars spent on ads in recent years.

"I was really upset with the agency in the beginning," Meunier told Automotive News during the New York auto show in March.

[...] A spot breaking this week by Zimmerman called "Safety Today" features people who treat auto accident victims, such as firefighters, emergency medical technicians, police officers and nurses. They are given an up-close view of how Nissan safety features can prevent accidents and their positive reactions are shown in the ad.

"Safety doesn't have to be boring. And that was part of the brief that I gave the team," said Jeremy Tucker, Nissan North America's vice president for marketing, communications and media. "How do you make safety compelling and exciting and give it some punch."
5th Gear: Chinese Tech Firms Go Big On Autos
Reuters has a report on how a Chinese automaker launched last year by a tech firm just poached autonomous driving staff from Google and Daimler. Other Chinese companies have snatched people from BMW and Tesla. Here's the story:
A relaxation of restrictions on non-automakers producing electric cars in China has also encouraged more entrants. Video streamer cum automaker Le Holdings Co, or LeEco, unveiled an electric self-driving concept car ahead of the Beijing motor show, which ends on Wednesday.

Tencent, the Chinese maker of popular chat app WeChat, established Future Mobility to make electrified self-driving cars with Taiwanese electronics manufacturer Hon Hai Precision Industry Co Ltd - also known as Foxconn - and car dealer China Harmony New Energy Auto Holding Ltd.

"If you're measuring these firms (Future Mobility, LeEco and others) as automotive companies, the risks are very high and it's a very long shot for any to make it," said Bill Russo, managing director at consultancy Gao Feng Advisory Co. "Even Tesla has taken 10 years to earn respect."
Reverse: MADD