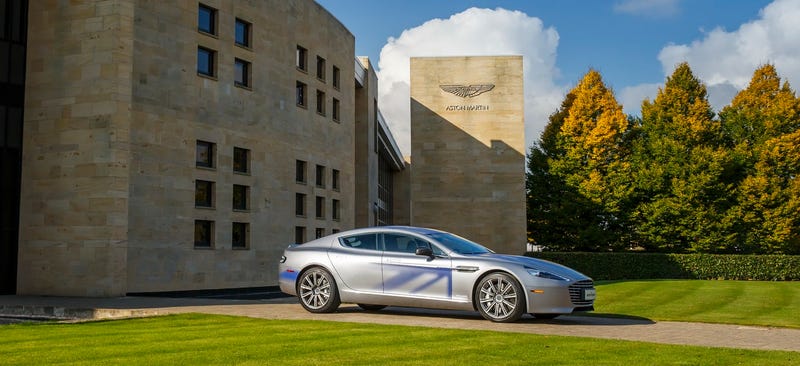 Aston Martin unveiled a fully electric Aston Martin RapidE - capital "E" for electric, or something - just in time for the meeting between Chinese President Xi Jinping and the Duke and Duchess of Cambridge in London.
The fully electric concept RapidE is based on Aston Martin's Rapide S sports sedan, a development we have been hearing rumblings about since March.
The quick jump to a concept car, with the help of Williams Advanced Engineering, arrived just in time for the arrival of the Chinese president, and is an interesting development. Carscoops reported that Aston Martin and a Chinese investment group, ChinaEquity, have announced a partnership to exploring bringing the electric Rapide into production.
From the article:
"We see luxury electric vehicles as an intrinsic part of our future product portfolio and welcome ChinaEquity into the next phase of study for the project development. The exciting RapidE concept tangibly demonstrates the capability and ambition of Aston Martin towards developing low- and zero-emission sports cars," said Aston Martin CEO, Dr Andy Palmer.

Just last week Aston CEO Andy Palmer talked about an electric Rapide "between 800 and 1,000 horsepower," and using electric power to keep the performance brand's models meeting expectations of both power-hungry customers and environmentally conscious governments. We're definitely okay with going electric if it gives Palmer "that power" we know and love from Aston, while "keeping the V12 alive."