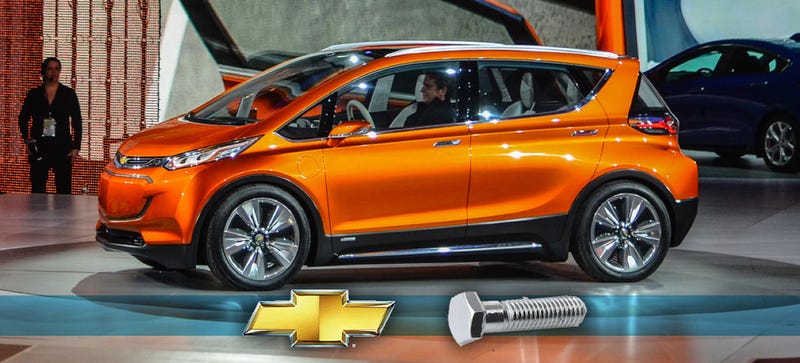 It seems Chevy focus-grouped the crap out of Volt owners to come up with their next-generation, all-electric concept, and what people told them they wanted was a crossover that incorporated design elements from the Renault Avantime, Honda CRX, BMW i3 paint, and some Tesla door handles. And it's $30K! Sort of.
Chevy likened the Volt to their "moon shot" (accompanied by the sound of what I guess was supposed to be a rocket, but sounded more like a train) and I guess that makes the Bolt like one of those Syd Mead paintings of the lunar colonies we never seemed to get.
Mary Barra herself came out and proudly announced some hopes and one bit of miselading information: the Bolt should have a range of 200 miles (hopeful, but certainly possible) and will only cost $30,000 (well, after government rebates and incentives, so it's not really $30,000.)
Still, it's good to see that Chevy's goal is to make a full-electric vehicle with decent range that's actually affordable to most people. In their own press materials, they say
"The Bolt EV concept is a game-changing electric vehicle designed for attainability, not exclusivity,"
... which is, of course, a clear dig at Tesla, which is sort of surprising since it looks like they bought the Bolt's (and, now that I think about it, the Buick concept, too) door handles right from them.