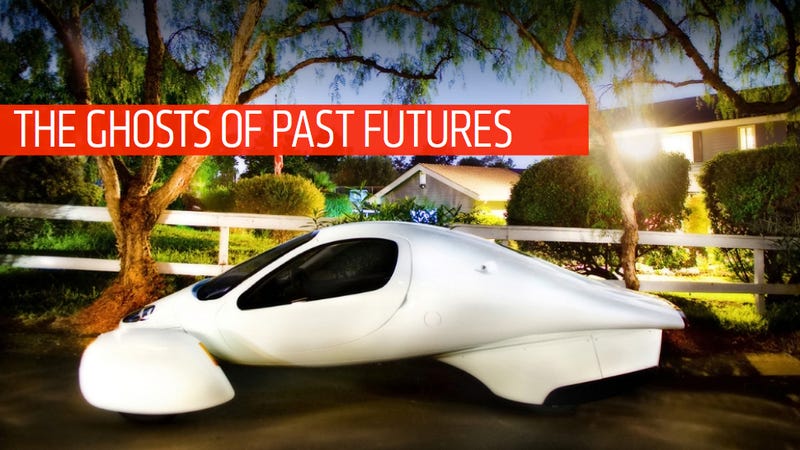 You're living in the future, but nobody goes by foot anymore. You need a car. But what car do you get? And which dystopian future are you in? These are the best cars in all of sci-fi.
Cars often make appearances in science fiction films because of how much they affect our daily lives now. We relate to them, we understand them, and no matter how far into the future a movie gets, it seems as if humanity hasn't been able to replace them (at least until we invent the moving sidewalk entirely composed of the crushed remains of unsold Segways).
Sometimes they can be the star of the show, other times they serve more utilitarian purposes, but they're always there. Standing out, and establishing a time of place far ahead of us and yet somehow bringing it all back to make the plot more real.
Here are five of those cars that brought us far, far into the future- sometimes all the way to two years from now.
Aptera 2e- Star Trek (2009)
"This ain't no future car!" you rage. "I haven't seen this in any movie."
You are wrong.
The Aptera 2e was actually featured in the last Star Trek film that came out in 2009. Don't remember it behind all the massive explosions and distracting lens flares? It was right there, puttering about behind the main characters in the scene where Cadet Jim Kirk is talking to Dr. Leonard "Bones " McCoy about the Kobayashi Maru testat Starfleet Academy. Don't believe me? Go check again. I'll wait.
I'm not waiting. There's a shot of it right there.
The Aptera 2e looked like it belonged to the future, even if it was very much of the present. In real life, Aptera folded in December 2011, but not before producing a few examples of the 2 Series. They were supposed to be either all-electric or hybrid-powered three-wheeled cars, and while they looked very good they didn't last long on this world. At least our tenth-great grandchildren found a use for them.
Photo credit: Fredrik Wass
Mad Max Interceptor- Mad Max
If I have any problem with movies that take place in the future, it's that everything's a bit too shiny, a bit too clean. That was fine I suppose back when I lived in Washington, DC, where for the most party the city has cleaned up a bit and in the Northwest section the sidewalk positively gleams. Jalopnik is in New York though, where the world is a bit dirtier and everything is a bit grittier, and for some reason I like to think our future will be, too. Sure we might live forever, but we won't be swimming in street sweepers.
It's for that reason that Mad Max was a great film for our future dystopia. Running through our impending desert wasteland, searching for fuel (the only thing that matters) after we've reached Peak Oil.
The Interceptor that Mad Max drove in the eponymous film was actually based on a Ford Falcon, but in inspired a whole genre of cars that most Ford Falcons never did and really brought back the Rat Rod style. It is representative not of the future we need, but the future we deserve.
Our future is probably going to look even crazier, when the next Mad Max film, Mad Max: Fury Road, comes out- it's already got a great cast.