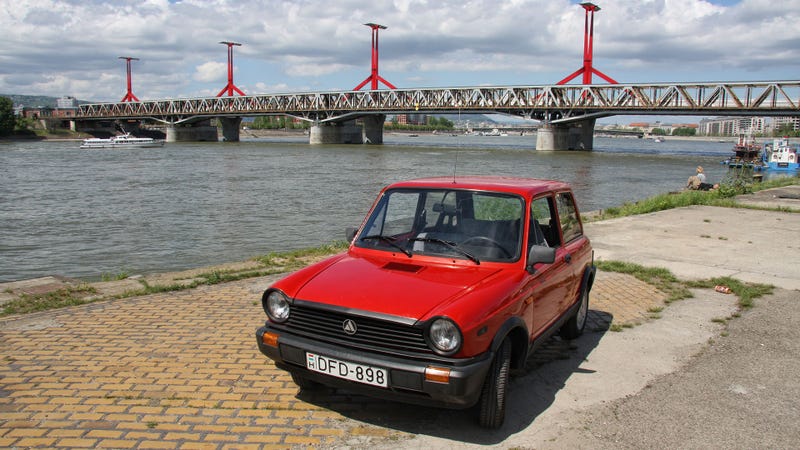 Some places test free new cars from the manufacturers for a year at a time. Not us. We just added a 1985 Autobianchi A112 LX to our top-secret Hungarian test fleet. This is how it got added to the mix and what you can expect from our* new toy.
When I say ours, I mean technically it's mine, but I'm sure the whole team will have some fun with it when they come over here. Also, I will share the experience with you. But why I bought a 1985 Autobianchi A112 LX in the first place is something worth an explanation.
After I saved up a bit of cash, I decided it was time to get a car again. Not for driving in Budapest, but more to get out of the city on the weekends. Hungarian train service is rubbish, buses are slow and crowded, so even with European fuel prices in mind, the only real choice is something with four wheels.
It was clear that I wanted an interesting car that I could love, preferably a (future) classic. I'm into rare things. But with a budget of around $1,800, my choices were limited. You see, this is not England, where you can get wonderful cars for next to nothing. We don't have the dry and hot air of California or Arizona either.
This is a country where you will find everything from Soviet rarities to American classics, not to mention the best of Europe, but salty winter roads, hot summers and rainy autumns destroy cars in the long run. In the end, the second hand market is full of either rusty project cars or vastly overpriced, but not at all that well preserved wonders. It's a place where if you find a good car with correct papers and have the money, you take it, as there won't be another example.
I wanted to get myself a nice BMW E21 since New Class (02) prices are over the roof. We had one when I was a kid, I always liked the shape, and it's a great rear-wheel drive car if you're lucky enough to find one which wasn't ruined by the last three decades of owners. It was the ultimate cheap BMW for way too long, so my chances were weak. In the end, I found one not too far away, but I didn't pick it up in time. I guess my brain knew I wasn't ready for an E21.
I was looking for Volvo 480 Turbos as well, and three were for sale at the time. I'm in love with that car, but it was a bit over my budget. So I started dreaming about a BMW E30 Touring, because wagons are awesome, and the E30 is a great all-rounder. A red example was 500 miles away, and I didn't make the journey. Let's hope it was rubbish. In the end, the only car I managed to check out before the A112 was a 1983 Honda Prelude. I was never really into Japanese cars, but an early second generation Prelude is something I could totally live with. Too bad the owner was an asshole, and the car itself was in pretty bad shape too.
Moving on.
There's something about Italian cars that makes me love them. But while getting an angry Alfa Romeo 145 QV did cross my mind, buying an almost unknown supermini wearing a long gone badge up front did not. Too bad there was one for sale on the outskirts of Budapest.
But before I get to that, here's a short history lesson so you know what we're dealing with:
Autobianchi was founded in 1955 by legendary car and bicycle maker Bianchi, tire giant Pirelli and not-yet that powerful Fiat. Their first car was the Bianchina, a deluxe version of the Fiat 500. It turned out to be a great car to go on racetracks with. They continued with the Stellina, a great looking rear-engined spider with a fiber glass body. That's where the idea for the Fiat 850 Spider came from.

Fiat was using the Autobianchi brand as a testlab for new ideas. So when the Primula came out in 1964, it become the first "Fiat" to use rack and pinion steering and the Dante Giacosa-designed front-wheel drive, transverse engine layout which made the Fiat 128 Car of the Year in 1970. The Primula only came second in 1965.

1969 was a big year for both Autobianchi and Fiat. Autobianchi introduced both the A111 sedan and the A112 hatchback, while Fiat came out with the 128, using the technologies developed by the smaller brand. The A111 was doomed from the start as larger front-wheel drive cars could only wear the Fiat badge from 1972, but the A112 become a massive hit, with youngsters and women eager to get one throughout the next 17 years.

It came with a three-door body and a 903 cc engine producing 42 horsepower. That figure climbed to 47 soon after. When the Fiat 127 was introduced in 1971 (with a longer floorpan but with the A112's mechanics), Autobianchi (now fully owned by Fiat) replied by launching the A112 Abarth with 70 horses. That was quite punchy considering the car weighted 1,477 lb. A112s were always more expensive than Fiats.

There were eight different series of A112s until production ended in 1986, by which time more than 1.2 million were made. Mine is a 1985 LX, the last year the Autobianchi brand was used before A112s became Lancias. You can tell by the fact that it has its number plate on the bumper instead of between the rear lamps like before.