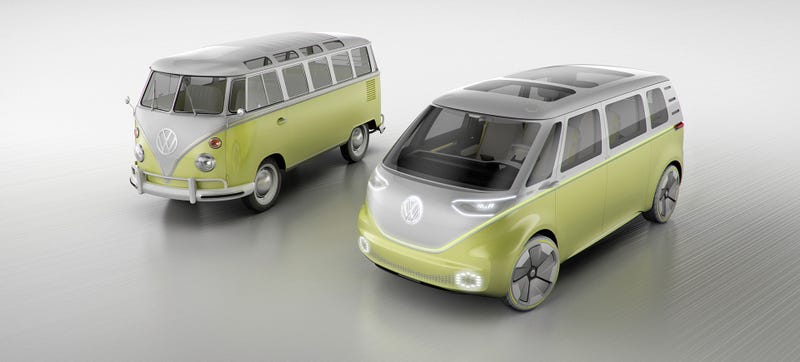 Volkswagen has now made a half dozen retro microbus concept cars in my life span and the newest is the electric, autonomous I.D. Buzz with 270 miles of range that debuted tonight. If VW has any sense, it will build it as soon as possible.
The I.D. Buzz is different from all of the previous concept cars VW has shown, evoking the classic microbus/transporter style that left a gash in the soul of America, unfulfilled.

Volkswagen says I.D. Buzz is not only all-electric, it's supposed to be self-driving as well. Given that there are no LIDAR arrays poking out from anywhere on this concept car, it doesn't look like VW is taking its self-driving claims all too seriously. Whatever. It's a concept car. It's a nice idea.

Also nice is that Volkswagen says this car could have two sorts of power options: depending on where they live, a theoretical I.D. Buzz buyer could option a 83 kWh battery pack and rear-wheel drive, or a 111 kWh battery pack with all-wheel drive.
VW also envisions fast-charging and a 5.0-second 0-60 time for the all-wheel drive model. Range would be 270 miles. Production wouldn't be before 2025, VW anticipates.
That's cool, VW. You know what's cooler? Actually selling an electric microbus to the public.