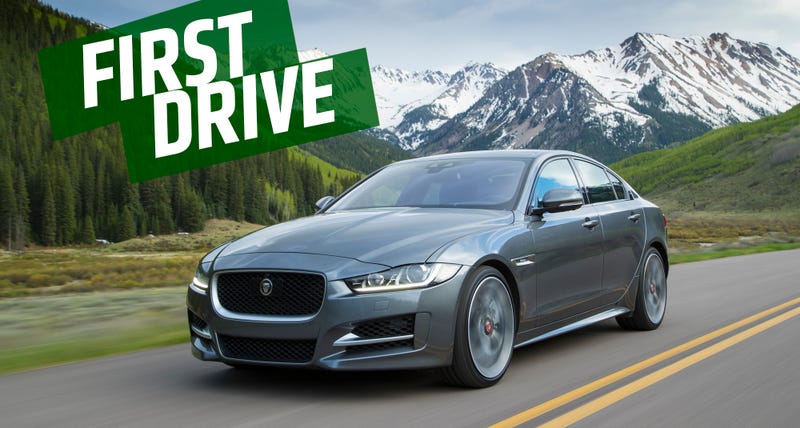 "You're going to love it, it's pretty much an F-Type with four doors," a Jaguar rep told me on the eve of my drive in the all-new 2017 Jaguar XE. I think he oversold it a bit. The XE is a competent and sophisticated sporty-ish sedan with some of the best technology in the industry, but it comes up a bit short on the driving dynamics that could make it a real and credible threat to the BMW 3 Series.

(Full disclosure: Jaguar needed me to drive the new XE and F-Pace so badly they flew me to Colorado, a state that looks like one giant Subaru ad and is full of Texans who retire there to smoke a ton of legal weed. I'm sorry, Colorado. Jag also paid for my food and booze, and a lot of it.)
Now, it's probably not fair to compare the F-Type—Jaguar's barnstorming, ear splitting two-seat grand tourer and a perennial Jalopnik staff favorite—to any kind of four door, five seat sedan. And the XE is a fairly sporting car. It just didn't move the needle as much as I expected to.

We've been seeing great things from Jaguar Land Rover lately and the XE is a pivotal car in the resurgent company's lineup. It's Jag's first real attempt (do these nice people a favor and don't bring up the X-Type) at a "compact" sport sedan worthy of the 3 Series, the Mercedes C-Class, the Audi A4, plus recent players like the Cadillac ATS.
I put that in quotes because none of these cars are that small anymore, but I'm not in charge of this stuff.
Launched in Europe earlier this year, the XE is on sale in the U.S. market now with three engine choices: a 2.0-liter gasoline turbo four with 240 horsepower, a 2.0-liter diesel—yes, they still sell those here!—turbo four with 180 HP, and a 3.0-liter supercharged V6 with 340 HP.

One thing we Americans will not get: a manual transmission option on any of the cars. They couldn't make a business case for it, I was told. Once again the demands of Jalopnik's comments section do not translate into real-world sales. A bummer, and another feather in BMW's cap here.