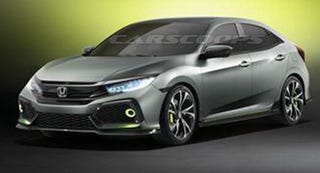 The Geneva Motor Show is still a few days away, but it looks as if we've gotten an early peek at the Honda Civic Hatchback concept slated to debut there. While the 2017 production version that the concept teases likely won't be as sporty or elaborate, this car looks ready to tear up some asphalt.
CarScoops shared these low-res images of the Civic concept on Friday, adding that the images popped up online and are reportedly official. With the sporty exhausts, bumpers and wing, the concept looks almost like the Honda Civic Type-R that Americans won't have until at least the 2017 or 2018 model year.
According to CarScoops, the concept could be a preview of a sport version of the Civic hatchback—perhaps an Si or a Type S model, Honda's sport distinctions. CarScoops added that rumored sport model could get a de-tuned version of the Type-R's 2.0-liter turbocharged engine, along with 230 horsepower to compete with cars like the Volkswagen Golf GTI and Ford Focus RS—the latter being a tough competitor, from our experience in it.