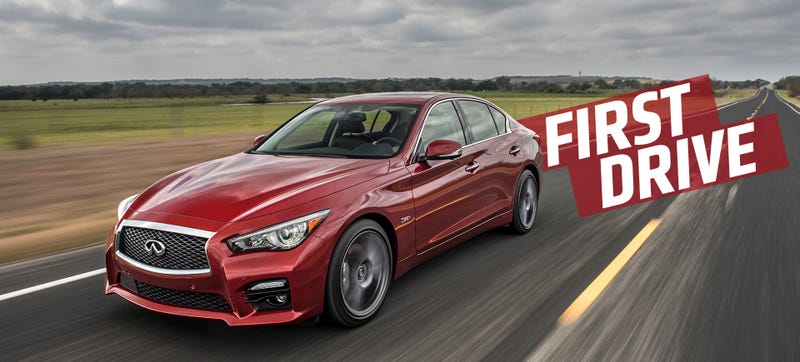 Usually when a car gets as many mid-life updates as the Infiniti Q50 is getting for 2016, it happens when said car is a complete and total failure, in desperate need of revamping to revive its fortunes. That isn't the case with the Q50; it was always a decent car, just not a great one, and up against some of the fiercest competition around.

Now it gets an array of improvements, most notably an all-new 3.0-liter twin-turbo V6 with 400 horsepower and 350 lb-ft of torque, plus massive tweaks to its drive-by-wire Direct Adaptive Steering system. After driving it, I can say the Q50 is closer to the car it should have been from the beginning. But is that enough?
(Full disclosure: The Infiniti folks needed me to drive the updated Q50 so badly they put me up in the fancy Hotel Emma in my hometown of San Antonio, Texas and paid for all my food and booze.)
Swings And Misses
Launched in 2013, the Q50 was both the successor to Infiniti's ultra-popular G series of sedans and an attempt to find carve out real brand identity after decades spent fumbling around in the darkness with hit-or-miss luxury'd-up JDM Nissans.

It worked and it didn't. On one hand the Q50 is Infiniti's best-selling car. On the other hand the Q50 never garnered the enthusiasm or reputation for BMW-fighting (or tuning) that the G35 and G37 did.
An M-slaying Eau Rouge performance version with the Nissan GT-R's engine never materialized in production form despite much hype, nor did the manual gearbox alluded to at launch. It was fine on paper, just not that much fun to drive on real roads.