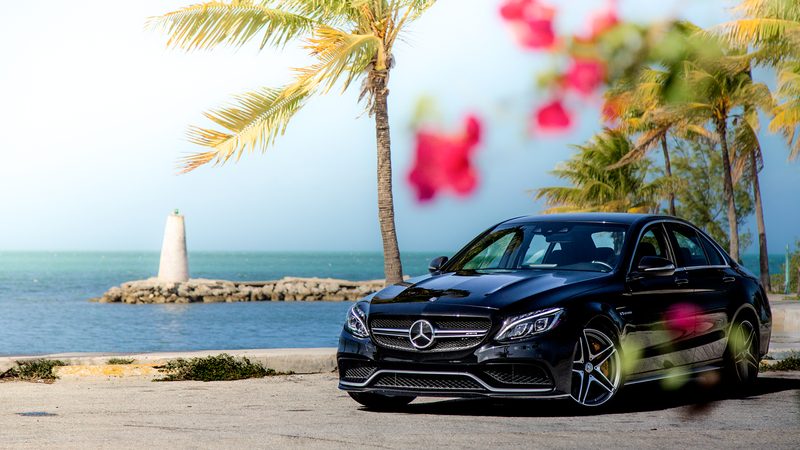 Some things bear repeating. For instance, I tend to harp on about how value trumps price and that you shouldn't ever settle for the mundane just because it's technically the safer choice. As if to prove my point, the automotive gods at Mercedes-Benz have created the AMG C63 S: the world's most perfect expression of the automotive experience. Well, almost.
(Full Disclosure: I flew to Florida on my own dime and was given a C63 S AMG for five days, a full tank of gas, and no instructions other than "don't break it." )
When reviewing a performance car, any automotive journalist worth their snark will refer to racing-only phrases like "snap understeer" and "on-center," while patting themselves on the back for being so darn knowledgeable on what a car should feel like.
The issue with me is that all the cold, calculated statistics that serve an entire population of Internet bench racers means jack shit to me, and- at the risk of sounding condescending to the stat queens out there - I'm not sure it really means that much to anyone else, because the experience a car can deliver is the only thing that truly matters over time. I'll explain.
Take, for example, your parents'-basement-variety console video game. It's a collection of short, novel experiences repeated over and over until your brain gets the signal that you're not getting the endorphin rush you used to, so the game gets tweaked slightly, rams those same pleasure receptors with dopamine for a short while, and Microsoft sells another billion copies of Halo 9: This Time It's Personal. It's formulaic and predictable, and exactly why there's less variation of experience year over year with the most popular selling games.
With cars, every single day can be a choose your own adventure RPG with real stakes, costs and kicks to your pleasure centers, the pinnacle of said experience being attainable by only the finest and clearly insane automobiles the world has to offer.
Enter the Mercedes-AMG C63 S. New for 2015, and these days powered by a compact 503-horsepower, twin-turbo 4.0-liter V8 engine. The same engine from the mighty AMG GT, packed into a humble sedan. Not bad at all.
I'm told black is a slimming hue, but not when it's wrapped around a sculpted four door behemoth masquerading as the movin'-on-up Merc. The subtle metallic sheen of the dark paintwork made the AMG-specific arches and flares pop, and I sure as hell wasn't one to argue with something that went to such lengths to tickle my proverbial pickle. I opened the door and was instantly met with a vast network of untreated wood, aluminum and the right kind of plastic. It was apparent that no small amount of time was spent hashing out the details of every color and material combination available, all of them absolutely fit for the job at hand - except for the suede on the beefy AMG steering wheel. Suede sucks.