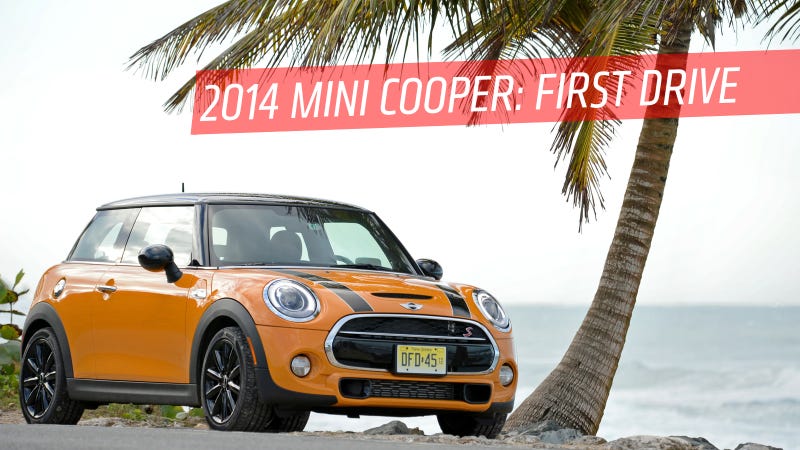 Do you want to know the deepest, darkest secrets of the future of the BMW brand? With the possible exception of the i3 and i8, these secrets don't lie under the hood of any car with a roundel badge; they're hidden within this guy, the 2014 Mini Cooper. No, seriously.
It's going to be hard to avoid size-related puns when I write about the all-new Cooper. Yes, its name is Mini, which implies that it's small, but this one is more grown up than ever, both figuratively and literally. It's also a really big deal for the BMW brand, as its mechanical parts will underpin a huge family of new cars, both Minis and Bimmers.
Okay, so how is it to actually drive? Pretty damn good, it turns out. Both Cooper and Cooper S are quick, handle great, have a vastly improved interior and ride quality over the outgoing car, and boast a very impressive array of technology at a good price.
But the new car's size increase, as well as its newfound maturity, means it's not quite as tossable and ridiculous and prone to shenanigans as its smaller predecessors.
(Full disclosure: Mini needed me to drive the 2014 Cooper so badly that they flew me to Puerto Rico and put me up in an obscenely fancy hotel on the beach. I was just happy to not be on the frozen-ass East Coast anymore. I would have done this drive in a Zetas-controlled shantytown in Mexico if it meant warmer weather. I should also note that I own a 2008 Cooper S, which I rather like quite a bit, and I asked to go on this drive so I could compare the new one to my car.)
Few cars have had an evolution as strange and fascinating as the Mini Cooper. It started life as Alec Issigonis' ultra-tiny, ultra-efficient car, and then at the start of the last decade it was reborn as a sport-oriented premium hatchback that survived BMW's ill-fated and bizarre marriage to the Rover Group, may British Racing God rest its soul.