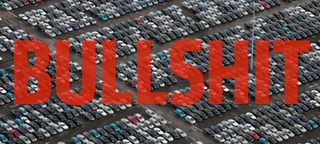 I usually enjoy reading Zero Hedge because the insights are often interesting and I think pessimism is an underrated virtue these days. However, this guest article on unsold cars is so demonstrably false I had to take a break from my Sunday morning to dispute it.
It is an admittedly appealing idea to think that automakers, unable to sell cars, are just wildly producing them and then dumping them around the world in an endless cycle of mass production hysteria. So much of the modern economy seems senseless and inexplicable, which is why an article like this seems to give some credence to the feeling many of us have inside that something is terribly wrong.
The visuals are strong, the headline is clear, and you almost don't have to read the article to viscerally understand the problem. I, more than anyone, get the appeal of this story because it seems to largely rip off an article I wrote — including the images and headline — more than five years ago (which itself was largely a rehash of a Guardian article).